About Wheels List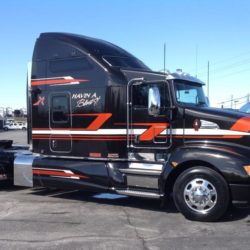 $178,950 The truck is almost new with 46,000 miles on it. ISX Cummins 550HP 18 series 18 Speed Ultra Shift Plus! 14K Front axle 40K […]
1550 total views, 1 today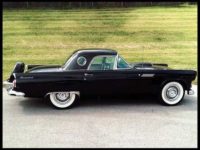 Spanning over eleven generations and almost fifty years, the Ford Thunderbird is responsible for carrying thousands of people over hundreds of miles in both comfort and style. Often credited with the creation of the "personal luxury car" niche, the Thunderbird has undergone several changes throughout the years but retained its original purpose as the perfect road trip vehicle.
Almost four and a half million vehicles later, the Ford Thunderbird is still beloved by many Americans who want a less pretentious (and less expensive) convertible or hard top for Sunday afternoon drives, weekend car trips, and the occasional jaunt across country. It has also done well in racing, particularly for NASCAR drivers Bobby Allison, Bill Elliott and Davey Allison, and Alan Kulwicki. The Thunderbird even set a record – during a 1980's qualifying session at the Talladega Speedway, the vehicle created a new record for the fastest lap in stock car history (over 200 mph), a record which still stands today.
Unfortunately for the Ford Thunderbird, nothing lives forever, no matter how classic and beloved. As time goes by and people live at faster and faster paces, the vehicle simply can't keep up with the need for more seats, more space, and more economical choices. In 2005, the last Ford Thunderbird rolled off the line.
The good news is that with almost five million Thunderbirds made, there are vehicles available for those who still dream of seeing American in one of these beauties. And who knows? The Thunderbird has been put on hiatus before and been brought back to life. With all the interest in a return to the past for a glimpse into a simpler time, there may yet be another iteration of the Thunderbird for future car lovers. At the very least, it will continue to inspire designers for many years to come.
2956 total views, 0 today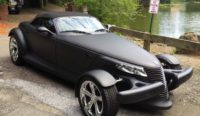 While the Plymouth Prowler may have been marked a failure in one sense (the choice to utilize a V6 instead of a V8 engine has been touted as the main culprit for the vehicle's low sales numbers and production output), it's one of the most interesting, unique vehicles from a design perspective, and might in fact deserve another look.
In an interview with Road & Track's Bob Sorokanich (which is a recommended read that you can find here), Tom Gale, former Chrysler design head, talked about the importance of the Plymouth Prowler as a concept car and an experimental vehicle that was twenty years ahead of its time. The heavy use of aluminum was far rarer in those days, and the Prowler was a chance to incorporate more of the metal to create a lightweight transportation option – it was built using techniques that were mostly geared toward smaller, lighter vehicles such as the Lotus Elise. This helps explain the decision to use a V6 instead of a V8 engine. The concept was for a more responsible vehicle made to look irresponsible, not the other way around.
Twenty years later, of course, aluminum cars were standard procedure, but it was too late for the Prowler. Manufactured for only a few years (1997, 1999-2002) and split between two companies (it later became the Chrysler Prowler), there are under 12,000 of the two-door roadsters in existence. It did, however, usher in an era of retro-inspired vehicles, such as the PT Cruiser, the SSR and HHR, Ford's 2002 Thunderbird and 2005 Mustang.
We haven't seen the last of the Plymouth Prowler, though – one pristine specimen has been sealed in a time capsule in Tulsa, Oklahoma, until the year 2048, at which time it will be returned to Chrysler. Perhaps it will inspire another return to vintage inspiration for the next generation of vehicles.
1595 total views, 0 today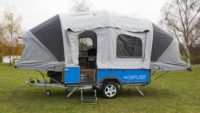 This travel trailer for camping is special because of its method of transforming from little box trailing behind your vehicle into sizable camp dwelling: it inflates. They use air to put the tent up.
And it looks very comfortable inside, with all the amenities people need for a cozy camp stay, anywhere they can drive their vehicle into, whether it be lakes, rivers, mountains, the ocean, fields or roads.
The tent inflation system and camper are the work of Opus. This one's called the "Air Opus" travel trailer, and it can be set up in about one third of the time it took to set up their original travel trailer, which also got attention for its style and comfort.
It has versatile gear hauling, a good layout and lots of camping/living needs like (standard and options mixed here):
– wraparound couch
– sink
– refrigerator
– movie system (entertainment system)
– portable latrine
– AC
– heater
– kitchen with stove
So how fast is set up? Well, they park it, open it (it unfolds from the center), and press inflate. They spend a few more seconds securing the outer perimeter of the inflatable around the travel trailer, and it's done in about 1 and a half minutes. The whole process everything included takes about 5 minutes. NOTE: with the air inflation system, there are no more tent frames. It's now Air Poles (that inflate for structure). It's powered by a 12 volt leisure battery.
This travel trailer camp unit is 12.5 feet long.
For more information about Opus Campers, find them in our directory of RVs. To see the luxury one, click here. For the basic one, click here. And here is a gallery.
115277 total views, 137 today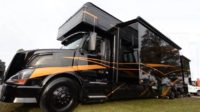 This huge luxury motorcoach might stand out among the others at any RV park or moving down the highway. It's a 45 footer with multiple slide-outs and a slick dark-colored theme paintjob.
It made an appearance at the 2016 Tampa Supershow and was shared by Travel bloggers Chris & G.
Not only does this luxury RV have the look, it has a ton of storage underneath, with in-house batteries, hands-free sewage/plumbing, big white grey and black tanks with filling system attachment,
The look, with those stripes, have a blend of carbon fiber (rather than chrome) for the finish, and matching black paint wheels and it has Michelin 22.5 tires on it.
And according to Chris & G Travels:
"While exploring the 2016 Tampa Supershow we knew we had to try and get a video of this rig!" according to the blogger/vloggers. "Mitch and Mike were nice enough to walk me through the exterior portion of the rig. Then, Jeff discussed some of the benefits of the super C motorhome. I am not certain this is the package we would get if we ever purchase a Super C, but it was a beautiful rig!"
Check out the gallery of photos below (all images on our site are expandable, even the featured image at the top).
Find more from Chris & G Travels, and to see more from Haulmark RVs, we've indexed them in our Trucking and RVing Directory. You can search a company's name and look for companies near your area. And to see more RVs, click here.
78958 total views, 116 today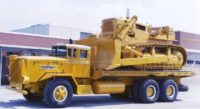 Music to the ears of Truckers
When it comes to music about truck drivers, there is nothing like the "Road Hammers." It's said all their songs always about truck drivers.
So much so that "AllMusic Review" critic Rick Anderson wrote:
"When you cultivate a sort of Motörhead-meets-Charlie Daniels visual image but all of your songs have to do with the joys and sorrows of driving a truck, then you're shooting for a pretty narrow demographic '
But he adds… so what?
There's an eager audience for it but also for other groups as well who sing about the often lonesome roads traveled by truckers.
Their songs often speak of being away from homes and families. Coffee and cops are common themes. Tragedy as well.
Some of the earliest songs date back to the 1950s.
You can find all kinds of top 50 lists but the ten named here are probably the best known for the widest audiences that include not only drivers but anyone else who romanticizes the road.
No. 1: "Keep on Truckin" has entered the general American vocabulary to mean many things since former Temptations and Motown singer Eddie Kendricks released it in 1973. It reached several No. 1 lists and was almost as popular in the UK charts.
Kendricks did not leave out his old Temptations singing group:
In old Temptations' rain, I'm duckin'
For your love through sleet or snow, I'm truckin'
Kendricks died of lung cancer in 1992 at the age of 52.
A park in his native Birmingham was named after him and Rapper Kendrick Lamar was said to have been named after him.
No. 2: Another No. 1 hit was "Me and Bobby McGee." Written by Kris Kristofferson and Fred Foster, it's the melancholy story of two drifters. They hitch a ride from a truck driver. When they part ways, the singer is best described as having the blues.
Freedom's just another word for nothin' left to lose
Nothin', that's all that Bobby left me, yeah
But, feelin' good was easy, Lord, when he sang the blues
Hey, feelin' good was good enough for me, mm-hmm
Good enough for me and my Bobby McGhee
The song was first sung by Roger Miller. It later went through many versions and became best-known for Janis Joplin. It was not only associated with her but was the only one of her top ten records during her short life.
No. 3: "Roll On (Eighteen Wheeler)."
Written by Dave Loggins and recorded by country music band Alabama, it was a No. 1 single. It was the group's 12th straight single No. 1 single on Billboard Magazine's list.
It's the somewhat sad story of a truck driver working to support his wife and three children.
"Daddy" tells his children that while he is gone, all they need to do is remember the song he taught them:
Roll on highway, roll on along, roll on Daddy 'til you get back home, roll on family, roll on crew, roll on mama like I asked you to do
This one has a happy ending, however. The family thinks "daddy" may have had an accident and goes through a tense night until hearing from him that "the man upstairs" listened to the song and the driver was found safe and sound.
No. 4: "East Bound and Down." This is from the highly popular movie "Smokey and the Bandit." It spent several months on the Billboard charts at No. 2 and became a television series of the same name.
Jerry Reed sang:
East bound and down, loaded up and truckin'
We gonna do what they say can't be done
We've got a long way to go and a short time to get there
I'm east bound, just watch ol' Bandit run
No. 5: "White Line Fever." A popular song with many versions though never a No. 1 hit. Merle Haggard did the best-known version.
White line fever, a sickness born
Down deep within my soul
White line fever, the years keep flyin' by
Like the highline poles
It's generally believed the song was inspired by auto creator John DeLorean who was entrapped in a scheme to sell drug money to finance his company.
The upshot was a film of the same name.
And In 1988, the song was used in an anti-heroin public information film in the United Kingdom.
No.6. "On the Road Again." It was written and made famous by Willie Nelson and became one of his biggest hits.
Many others copied it, including Alvin and the Chipmunks in a 1981 version where Alvin sings about his reluctance to do a road trip while he misses his home.
On the road again
Just can't wait to get on the road again
The life I love is making music with my friends
And I can't wait to get on the road again
On the road again
No. 7: Rubber Ducky." First sung by Muppet character Ernie on Sesame Street named after his favorite toy. It became a surprise hit in 1970 and was nominated for the "Best Children's Grammy."
Little Richard performed a rock n' roll version of it as a guest of the TV program.
Rubber Duckie you're the one
You make bath time lots of fun
Rubber Duckie I'm awfully fond of you
No.8: "Convoy." Best described as a 1975 novelty song performed by C. W. McCall. It became a number-one song on both the country and pop charts in the U.S. It was No. 1 in Canada as well. First heard in the Sam Peckinpah film "Convoy."
Cause we got a mighty convoy
Rockin' through the night.
Yeah, we got a mighty convoy,
Ain't she a beautiful sight?
Come on and join our convoy
Ain't nothin' gonna get in our way.
We gonna roll this truckin' convoy
'Cross the U-S-A.
Convoy! Convoy! Convoy! Convoy!
No. 9: "Six Days on the Road." This hit song goes back to 1963 and is sometimes credited with launching the truck driver song craze in modern times. It is also hailed as the definitive celebration of American truck drivers.
Dave Dudley sang it:
Well it seems like a month since I kissed my baby goodbye
I could have a lot of woman but I'm not like some of the guys
I could find one to hold me me tight,
But I could not make believe it's right
Six days on the road and I'm gonna make it home tonight
No. 10: "Forty Miles of Bad Road." Another song phrase that was so popular it become commonplace in the English language. Where did it come from?
Best guess is a record producer who heard a Texan say:
"Your girl has a face like forty miles of bad road."
Duane Eddy recorded it as an instrumental.
No lyrics needed.
The title says it all.
By David Wilkening
5705 total views, 0 today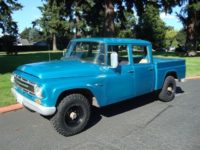 International Harvester Company, known as IHC and later IH. Finally, Navistar International Corporation founded in 1901 from Lisle, Illinois. Originally a farm implement manufacturer, construction equipment, trucks and household and commercial goods. However, by 1985 International had sold off most of the agricultural line merging to become Case IH brand. They then rebadged themselves from 1986 onward becoming Navistar International Corporation. The first origins of IH can be traced to the 1830's, when a Virginia inventor known as Cyrus Hall McCormick developed his model of the horse-drawn reaper, whereby he first presented a working unit in 1831 and was able to obtain a patent in 1834. These early models sold quite well, considering the railroads provided vast distribution and salesmen could demonstrate the machinery. The International Company was known for several firsts in the industry, many farm implements and light duty to heavy duty trucks.
After introduction of the Farmall tractor which proved to be a great success in 1926, sales leads continued through the 1940's and 1950's even with strong competition from John Deere and Ford. By the 1980's IH was the first firm to introduce a computer monitoring system (Sentry) in its tractors. Other cutting edge technology included the "Z" shift pattern or 18-speed synchro transmission.
Who cannot remember the IH Scout that was liked by everyone? This little vehicle was great on a ranch or town with rear seat option or a pick-up cab configuration and produced until the mid-1980's. The Travelall, similar too Chevrolet's Suburban and would serve as a great tow vehicle. The remaining legacy of International can be seen with their heavy truck tractor line; known as Navistar International Corporation.
The International Company had a global position in its early years, however its demise could be due to labor issues such as strikes and management changes by 1979.
By Willys6
33301 total views, 11 today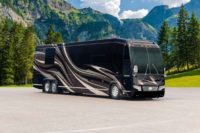 Prevost (pray-voh) is a Quebec, Canada-based manufacturer of motor coaches, bus shells for upper class motorhomes along with specialty models. It all started in 1924, located in Sainte-Claire, Quebec and is an affiliate of Volvo. We will look at it's history, current line-up and the one and only Ground Force One.
Having it's origins in 1924 by Eugene Prevost (1898-1965); was a cabinet maker turning out church pews and school furniture, when that same year was asked to construct a custom bus body for a new REO truck chassis. This led to several repeated orders, likewise by 1937 Prevost built its first assembly plant. At its inception, such vehicles were built around a wooden frame, but in 1945 the bodies from that point on were made of metal. In 1957 the company changed owner's and by 1969 a partnership was formed by two American businessmen becoming the company's owners. The company was then sold to Volvo Bus Corporation in 1995.
The current model line-up all seem to come with Volvo diesel engines, whereas prior years offered Detroit diesel orders. The passenger coaches are as follows: H-Series up to 45 feet in length, X-Series and Volvo 9700 Inter-City coach. Here are the bus shells for conversion to motorhomes or private duty: H3-45 VIP, X3-45 VIP or LeMirage LLII Entertainer.
Ground Force One was designed by Prevost and fitted by Hemphill Brothers Coach Company, Nashville with a price tag in 2012 of about 1.1 million dollars. It is a highly modified X3-45 designed for the U.S. President and dignitaries. Some of its features we know of include; run flat tires, armored exterior and heavily reinforced glass. It is 45 feet in length and at least two are in use.
So Prevost seems to fit the bill, whether in need of an elaborate motorhome or a casino shuttle bus.
Contributor Willys6
3822 total views, 39 today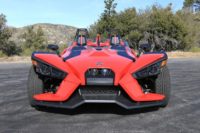 When you say Polaris what comes to mind is probably snowmobiles or ATV's. This is a reverse trike free of any roof, doors and about anything else not required for vehicle operation. The Slingshot has a "wicked" look to it, lighter weight frame and more than adequate power. Licensing requirements vary in each State.
Some great features related to look; easy to get in to drive, instead of sitting on top such as the Can Am Spyder, you sit in the Slingshot and is side-by-side seating configuration. It has a traditional steering wheel, three pedals on the floor and center shift console for an open cockpit feel versus a motorcycle. Such styling makes for an easy process of acclimation.
The Slingshot comes with a tubular steel frame, minimal body panels and limited cockpit help to minimize the curb weight at 1,700 lbs. and thus will keep to the spirit of riding a motorcycle. A small windshield on the one SL model can help to deflect insects and other debris from catching your helmet, however at the same time very evident you are outside while in the Slingshot.
It Comes packing a 2.4-liter four cylinder sending all its power to the single rear wheel with a five-speed manual and a carbon fiber-reinforced belt drive. The trike's engine generates 173 horsepower and 166 pound-feet of torque, with the only filter on noise being your helmet. Should you desire to drive before making the commitment of $20k or greater, try a rental for a few hours. Nothing compares to a trip to Las Vegas where a few locations exist to rent the Slingshot with maybe a 4 hour minimum, giving you and a friend time to drive over the Boulder dam is great!
By Willys6
2784 total views, 0 today