About Wheels List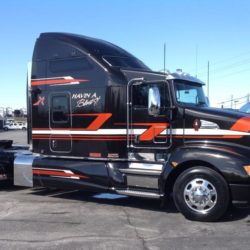 $178,950 The truck is almost new with 46,000 miles on it. ISX Cummins 550HP 18 series 18 Speed Ultra Shift Plus! 14K Front axle 40K […]
1462 total views, 0 today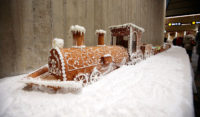 For the second time in five years, a Norwegian train station is home to the world's longest gingerbread train.
In Norway, a new train station is home this season to the 370.75 meter long gingerbread train. Note: for this record, there can't even be 1mm gaps between cars. The gaps were filled with sugar.
The previous record — from 2011 — was 206 meters.
How much ginger bread is that? 700 kilograms. It took 800 kids in cooperation with local Holmestrand, Hof and Sande businesses to do it.
Photos: Lise Åserud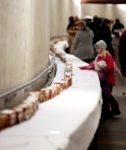 1338 total views, 0 today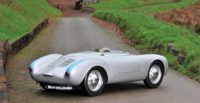 According to Sotheby's, commenting on sales of expensive cars in the previous year, "2016 was yet another remarkable year for RM Sotheby's. Hundreds of cars were sold over nine auctions, from the Duemila Ruote in Milan to Sam & Emily Mann: A Collection by Design in Monterey, numerous records were broken, and millions of dollars were raised for charity. RM Sotheby's underlined its clear market leadership with more than $373 million in auction sales and an annual sell-through of 91% – in 2016 alone, 1,285 vehicles were sold. Click ahead to see some of the year's best-selling cars and be sure to check RM Sotheby's website as our Arizona and Paris auctions approach in 2017."
The most expensive? According to the company:
"The highest final sale price of the year goes to the 1956 Le Mans-winning 1955 Jaguar D-Type, which sold for $21,780,000 at RM Sotheby's: Monterey in August."
1939 Alfa Romeo 8C 2900B Lungo Spider – $19,800,000
Shelby Cobra CSX 2000 – $13,750,000
Pre-war Mercedes-Benzes 540 K Special Roadster – $9,900,000
Ferrari 340 America Barchetta – $8,226,400
701 total views, 0 today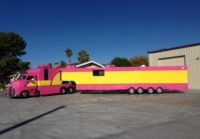 The first thing you notice is the color: Not exactly dull gray. Try bright pink. For a truck? And yellow, too.
Why not?
"There should be zero debate on this if this is blue and black or white and gold. The truck and trailer combo is a bright pink and yellow, and the vehicle description states that it's probably the most unique and most interesting (vehicle) you have ever seen."
"And we completely agree."
So says a site in 2015 called "Weird Stuff Wednesday" about one of the vehicles found at Carsforsale.com.
It's really a modified 1948 Chevrolet 3800 COE. At the time, it was for sale in Calabasas, CA.
"The trailer is about 44 feet long and has not only room for you and your family to sleep in while traveling the country, but the rear has enough room to haul a vehicle or any motorsports equipment," Weird Stuff says of it.
Its color will certainly attract families. It has room for seven.
Other details:
—It should be easy to shift for even younger members of a family since the transmission was described as automatic.
—Steering, too, should be easy for everyone. It has power steering.
—A tilt wheel,
—Power windows, too.
—Described as having "premium" when it comes to paint and interiors.
—Wheels are also described as premium.
—The condition at the time was described as "excellent."
—Mileage was 66,618.
The color was described as multi, but pink and yellow might be more accurate.
Other features include:
—A 10-cylinder 502 cubic inch engine.
—A satellite dish.
—Sleeps six in the trailer.
—Freezer and refrigerator.
—A large shower.
—Air conditioning.
—Even the sleeper car has air conditioning.
Background includes this:
Chevrolet trucks from 1947 to 1055 were number one in sales in the US.
They used the same basic design family for all of its trucks, including the Suburban, panel trucks, canopy express and cab overs, according to several accounts.
The "unique Cab Over" fenders and hood required a custom cowl area," said one description.
"Fully loaded with all the features that make traveling fun…
You and all your friends could have a perfect trip," says another description of the pink and yellow modified truck.
Another site says of it:
"Spring break is right around the corner and this custom classic with matching trailer is just begging to be taken on a road trip."
The advertised price was $76,500.
Another popular 1948 3100 Chevrolet truck was the Thriftmaster. Where color was also a consideration.
"Coated in new bright red paint, this 1948 3100 retains its utilitarian good looks and features added touches that make it a hot rod in farmer's overalls," it's said of the truck.
The model recently for sale was equally bright with brisk red paint.
It was described as having a "great looking grille that appears to be original, traditional round headlights trimmed in chrome, and a new, curved chrome bumper."
The sea of red color is broken up by a left fender mounted filler cap.
The truck's description goes on:
"Raise the hood on this '48 Chevy truck and in place of its original Thriftmaster 235 inline six-cylinder you'll find a completely natural looking small block Chevrolet 350. At the top of the motor, a polished Demon carburetor wears a small round chrome air cleaner, is fed by stainless fuel lines and feeds a Holley Procharger supercharger."
That bright red color here stands out as much as the pink.
Inside the truck, a restored interior mixes modern elements with traditional 40s design.
"The bright red from the body is present on the dash and contrasts well with gray seats, gray upper door panels, a gray headliner and a gray floorboard," the description says.
The seats and steering wheel were taken from a 90s Chevrolet and are much easier to live with than the trucks' original flat bench and huge, thin-rimmed wheel, it adds.
Safety is also a consideration.
For better visibility, Beede gauges have been installed in the classic red dash and display a speedometer and readouts for the engine's vital readings.
"This 1948 Chevrolet 3100 is a highly drivable truck that follows a simple but proven formula. Take classic good looks and mix a lot of power with nice modern conveniences to get one extremely fun vehicle that can be enjoyed as it was meant to be enjoyed," the description says.
By David Wilkening
1330 total views, 1 today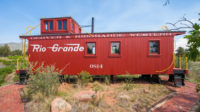 How about life in a railroad caboose? For some, the even mention of the name does not mean anything, since they started to see a decline in usage or elimination on U.S. railroads by the mid 1980's and Canadian railroads following suit by the 90's. In short it was the mobile office on the back of the train for the Conductor and Brakeman who would sit up high in the "cupola" and people would wave at him as the train passed. Such a perch higher above the train was designed with safety in mind; such as to watch for potential problems along the way for the train. This maybe unauthorized riders or damaged equipment and therefore could radio the Engineer. It could be a full-time dwelling, vacation home or roadside business site.
First, before putting down the railroad ties on your property, find out the zoning requirements in your area. Most owners choose to purchase their own land and many times property taxes do not apply, in many instances when the car is put back on wheels and this can classify it as a portable structure. For a permanent home, several modifications can be made to include solar power and extreme makeovers in the interior for greater use of space.
If used for a vacation home you will still have to hire a crane to set it on a small set of rails if desired, which can be upwards of $300 per hour.
A roadside business idea could be a store or café since you are certain to have the only one around for miles.
Most of such cars when found are pretty used up. The purchasing agent on a railroad is a good resource to start with to locate your caboose and it had been reported prices started at $2000 and even less if wooden cars could be found.
By Willys6
8557 total views, 1 today
The RV industry is almost as old as the car business: More than one century. And if you want to see the very first of its kind: take a trip to Elkhart, Ind., to see the 1913 Earl Trailer and Model T Ford.
It's generally recognized as the oldest non-tent travel vehicle in existence.
You can find it today at the RV/MH (Recreational Vehicle/Manufactured Home) Hall of Fame Museum.
It's appropriate that it's in the museum in Elkhart, because so many RVs have been built there. More than anyplace else in the United States.
Estimates are anywhere from 50 to 85 percent of them came from there.
"The RV industry began 100 years ago," RV Life wrote in 2003."And within its first decade, nearly every type of RV we have today—tent trailers, travel trailers, fifth wheels and motorhomes" were introduced.
So said RV historian Al Hesselbart, who was involved in the museum which opened in 2007.
Not a lot of information is available about the first RV vehicle other than it was ordered by a Cal Tech professor to be attached to a Model T.
But the museum and other accounts trace the history of RVs in general. And provide more information about the legendary Model Ts.
Some history highlights:
RV historians have pinpointed 1910 as the start of the RV industry. That was when companies in Los Angeles and Saginaw, Michigan, began selling camping trailers.
That was also the time when Pierce Arrow introduced its Touring Landau. The Landau was definitely upscale. It was driven by a chauffeur.
The truck camper in its current form was introduced in the 1940s. Its pre-1920s predecessor: the Automobile Telescope Apartment, mounted on a Model T Ford Runabout.
It even had a modern version of the "slideout."
The price of that RV was only $100.
Read more in part II.
8209 total views, 0 today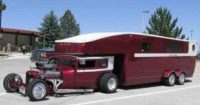 Click here to return to Part I of this article
Since hotels were expensive in those days and towns were friendlier to traveling salesmen and unaccustomed to families, RVers began modifying campers to sleep in them. And cook their meals.
Companies began adding equipment to make them more comfortable like stoves and beds.
Henry Ford, inventor of the Model T, was among people who helped popularize campers in the early years.
A major difference was that many celebrity campers in those early days stayed overnight in tents.
The next move was perhaps predictable.
Auto campers started heading for Florida in the winter.
So-called "Tin Can Tourists" became popular in the 1930s,
For a while, anyone associated with the industry got the "tin can" designation.
We know that camping began to catch on in the 1920s when The New York Times reported that about half of the 11 million vehicles on the road were used for camping.
Campgrounds designed for tourists began in the 1920s. Some of them came with amenities such as golf courses. And even electricity.
The US depression that started in 1929 helped the industry in a sad way: some people who lost their homes moved into campers.
That helped create a boom in sales.
In 1936, the New York Times estimated there were 100,000 trailers on the road. "A new industry is rapidly coming to the front," the paper said.
One of those manufacturers was the Covered Wagon Company in Michigan. It was the first to build trailers on a large scale.
Naturally enough, they started using the same production techniques of the automobile industry. Its founder, Arthur Sherman, has been called The Father of the RV Industry.
And Elkhart? It began emerging as the center in 1933, according to Hesselbart. That was when the Chicago World Exposition first featured a trailer industry exhibit. That so impressed some Indiana state residents that they began making RVs.
Soon, there were 300 manufacturers within a few miles of the city. Elkhart was being called "The Trailer Capital of the World."
But not just there.
In Southern California, Wally Byam founded Airstream in the 1930s. He began by building his own trailer and selling the plans for $1 each through Popular Mechanics magazine.
There were other companies like it, but Airstream's streamlined metal design outlasted most of them.
Another familiar name in the industry, Winnebago Industries, started production from a former trailer factory in 1958. They began selling for as little as $5,000 from the Forest City, Iowa factory.
Another famous company, Fleetwood Enterprises was created in the 1950s. Founder John Crean is given credit for introducing Venetian blinds for trailers. The California based company became so successful they sold $1 billion in manufactured homes and RVs in 1989,
The RV business has had its ups and downs since then.
Henry Ford's Model T has a firm place in American history. When production started on October 1, 1908, it introduced mass production and opened travel for just about everyone in the country.
The model was variously known as the "Tin Lizzie, T Model Ford, Model T, T, Leaping Lena, or flivver."
By 1918, half of all the cars in the US were Model Ts. Not much longer after that, Ford made his famous statement about the car's color.
"Any customer can have a car painted any color that he wants so long as it is black."
The Ford Model T was named the most influential car of the 20th century in the "1999 Car of the Century" competition, ahead of the BMC Mini, Citroën DS, and Volkswagen Type 1.With 16.5 million sold it stands eighth on the top ten list of most sold cars of all time as of 2012, according to Wikepedia.
The history of the RV goes back even farther than a century when you consider that the covered wagons seen in western movies may have been the forebears of the movement. A company called Covered Wagon Travel Trailers in the 1930s became one of the largest manufacturers of RVs until it became a casualty of World War II.
Information about that company and many others, including the Model T's role, is on display at the museum.
One other "can't miss" for those who make it there:
The once-famous actress Mae West owned a 1931 Chevrolet "house car" on display at the museum.
No, she didn't drive it herself. She had a chauffeur who regularly took her from home to the movie studio.
By David Wilkening
Return to part on (click here).
20903 total views, 1 today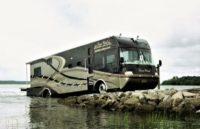 Memo to undecided: You have to choose between a land yacht and an expensive RV? If you can afford it, why not have both?
A South Carolina company known for its amphibious products offers the CAMI TerraWind that is equally at home on roads and rivers. Don't trust it?
It's advertised as "unsinkable."
As one reviewer puts it in Car and Driver: "A motorcoach you can fish from."
The sight of this 42.5 foot, 15.5 ton vehicle plunging into the water raises eyebrows among most spectators who wonder if their vision is failing them.
No problem.
-aJohn Giljam and his wife, Julie, are the creators of this "one-of-a-kind vehicle that combines all the comforts of a luxury recreational vehicle with the seaworthiness of a yacht and can be piloted over both land and water," writes Car and Driver.
About that "unsinkable" aspect:
Says company literature, "Our amphibious vehicles possess the patented safety feature of being unsinkable thus making us unique. All of our amphibious vehicles are UNSINKABLE due to our patented and patent pending use of positive floatation foam."
One evaluation of the Terra Wind describes it as a "luxurious custom-built motorhome with everything you could want from a house, including a full set of home appliances, ornate teak cabinetry with gold inlay, and a jacuzzi bath. It's like a cruise ship on the road."
It's also that way on the water, according to several reports.
One says:
"The Terra Wind is not just a road vehicle, but also a boat. This is an all- terrain, 4 wheel drive, rugged beast. It has two diesel engines, a GPS mapping system, roll bars, winches, oversized floatation tires. It also has flotation foam, you could split the vehicle in quarters and it will not go down."
The company building it is South Carolina-based CAMI (Cool Amphibious Manufacturers International), which started in 1998 after John Giljam bought an old military vehicle to operate a Jet Ski rental business.
John found the LARC-V military vehicle to use as a jet ski was fun. But that experience led to his starting the Cool Stuff Tours.
His first product was the Hydra-Terra, a 39-foot, 49-passenger commercial touring bus.
That led to other innovations such as the Terra Wind.
Oddly enough, John came from a farming background. With no technical background and barely a high school education, he started inventing his various products.
Demand became so great for their products that eventually John and Julie stopped running their own tours so they could focus solely on the production of the Hydra-Terra.
Production of the RV version got under way after John and his crew built a 42.5-foot-long, 102.0-inch-wide motor coach from scratch and mounted it onto an aluminum boat hull they also custom-built. They rigged a 330-hp diesel RV engine to power the wheels and two 19-inch bronze propellers.
The magazine reported that patented technology for many of the company's vehicles involved how to power both the wheels and props, John installed a power takeoff on the rear of the engine. One output shaft goes to the automatic transmission and the other to the marine gearbox. The driver selects the desired mode of propulsion by switching one of the transmissions into neutral.
Test runs were reportedly nerve-wracking but worked.
With technical issues solved, the inventors went to interiors.
They went to RV dealers to compare, and ended up with a variety of high-end features.
There are granite countertops, marble tile floors, and teak cabinets.
It also has a washer and dryer, a dishwasher, a stove, a microwave oven, and a trash compactor.
The Giljams also installed a five-disc DVD changer, a surround-sound theater system, and a 42-inch plasma TV, which is mounted above the captain and co-captain's leather chairs. There's also a full-size Jacuzzi-and-shower combo with eight massage jets.
The bedroom and dining area includes a leather, cream-colored couch and a dinette table for two. The furniture slides out for even more space.
On land, the vehicle can reach 80 miles an hour. At sea, speeds up to 7 knots.
The Terra Wind took 19 months of development.
Reports were that the vehicle handled well both in and out of the water.
Car and Driver reported:
"The six-speed automatic transmission and the air-ride suspension provide a smooth, easy ride, and engine noise is far less intrusive on the road compared with the river-going experience."
So by now, maybe you wonder what it cost?
Prices started at $650,000, but custom additions might make it above $1 million.
Is it worth it?
This strange beast is admittedly not practical, concludes Car and Driver.
"Of course not. But if you're thinking of plunking down about $1 million for a luxurious RV/yacht, practicality is probably not your main concern. And in the hey-look-at-me market of unique and lavish vehicles, the Terra Wind may indeed be the ultimate in all-purpose traveling."
So if you have $1 million or so, who needs practical?
By David Wilkening
13747 total views, 3 today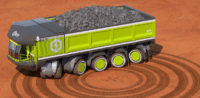 ETF Mining Equipment is a privately-held company with headquarters in Slovenia, manufactures the largest trucks in the world for mostly off highway usage. They are known for zero emissions and reduced noise free of diesel engines. Also, more mine output due to vehicle offerings of a overland truck train configuration. ETF is a different kind of company and business model.
The ETF mining trucks start with 250 metric tonnes of payload, with the largest truck capable of 565 tonnes. With such huge payloads and configurations this can mean the capability of hauling 4 times what a competitor company is offering.
Such trucks are a battery electric all-wheel-drive surface mining rig with energy harvesting and yes once again, free of diesel engines or turbines.
As mentioned previously the all-wheel-drive component; this all equates to less weather delays from snow, rain or other conditions. So, likewise the mine can keep producing without downtime. ETF states that their vehicles have a 95% technical availability rating, meaning instead of repairs an exchange of a component is performed and the truck has less time out of service.
The company touts themselves a different kind of company; from the vehicle offering to delivery. When purchasing, the company ships in containers to the mine site parts, whereby ETF assembles the trucks on site. However, there is a minimum purchase order of 6 units.
In consideration of environmental impact and payload, ETF Mining Equipment is definitely worth much consideration for mining corporations. Also, based upon internet research this corporation has delivered to mines in Chile and not limited to a European market.
By Willys6
2962 total views, 1 today