About Wheels List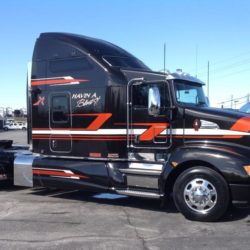 $178,950 The truck is almost new with 46,000 miles on it. ISX Cummins 550HP 18 series 18 Speed Ultra Shift Plus! 14K Front axle 40K […]
1639 total views, 1 today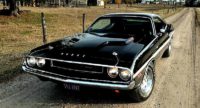 What began as a full-size, two-door sedan marketed and sold to prospective new car owners in the late 1950's, the Dodge Silver Challenger (so named because of the chosen color – there were no other color options for the Challenger at the time) has reinvented itself through four generations, becoming a 2-door notchback coupe, muscle car, and a citizen of the world, when production moved from the U.S. (Los Angeles, California, and Hamtramck, Michigan) to Okazaki and Aichi, Japan, and Brampton, Ontario, Canada. Though it has changed hands over the years (from Chrysler Corp to Mitsubishi Motors to Fiat Chrysler Automobiles), the Dodge Challenger has kept its image as a competitor with both the Mustang and the Camaro.
Designed by the likes of Carl Cameron, Jeff Gate, and Brian Nielander, the Challenger started with the option of a "Getaway" L-head straight-six engine or the "Red Ram" V8, with a standard three-speed manual transmission (though automatic was an option). After the Mustang was relesased as the first ever "pony car" in the mid 1960's, the Challenger was positioned to become "the most potent ponycar ever" and switched from competing with the Mustang to the more luxurious Mercury Cougar and the Pontiac Firebird.
Later, the Dodge Challenger turned into a muscle car, with an eight-speed ZF 8HP automatic transmission, 6.4 liter Apache V8 engine, and six-piston front Brembo brakes with two-piece 15.4 inch vented/slotted rotors. There are also two new variants on the Challenger, the SRT Hellcat and the SRT Demon. The Hellcat has a supercharged engine and 20-inch aluminum wheels, making it a devil to catch on the raceway. The other new variant, the SRT Demon, debuted at the New York Auto Show in April 2017. It has a 6.2 liter V8 engine and a 2.7 liter supercharger. This variant is street legal, but its unique tire from Nitto was built for the drag strip. This makes the Challenger SRT Demon the first production car to have such tires. It is slated to appear in 2018.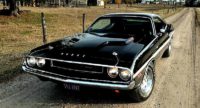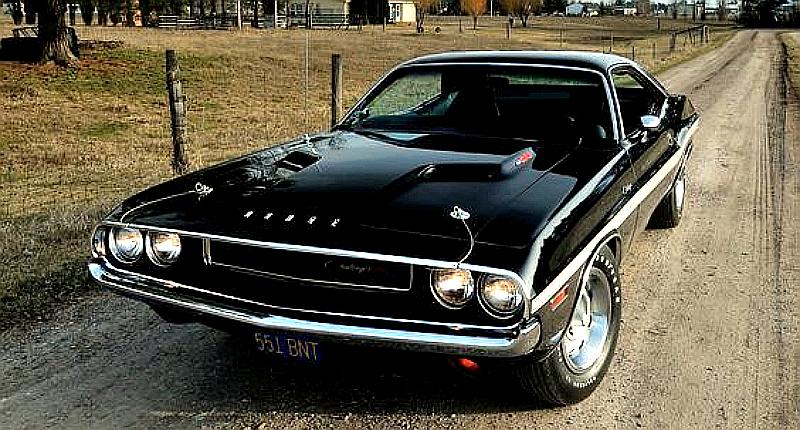 2955 total views, 1 today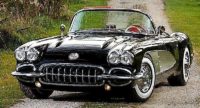 An all-American classic, the Chevrolet Corvette has held many jobs over its illustrious career, including pace car for the Indianapolis 500 (thirteen times), endurance racecar (in Daytona, Sebring, and Le Mans for instance), NASA sponsor (Chevrolet set up a program that allowed astronauts to purchase slightly used Corvettes at a low price), and movie star (appearing in Transformers: Revenge of the Fallen and Transformers: Dark Side of the Moon as the character "Sideswipe").
Once made in Flint, Michigan and St. Louis, Missouri, the Corvette now calls Bowling Green, Kentucky its home, and has been given the title "Official Sports Car of the Commonwealth of Kentucky." Named after a warship with later designs inspired by Mako sharks, the Corvette has evolved over seven generations to become one of the most beloved sports cars in America.
Despite its reputation (and record) as a car for men undergoing a mid-life crisis, the Corvette is trying to put this tale to rest, instead marketing itself as a young person's car, appearing in the 2013 Indianapolis 500 as a pace car for a twefth time, and introducing a version of itself to gamers in Gran Turismo 5.
The Corvette also spends plenty of time garnering awards from magazines, organizations, and websites, including placing 16th in Edmunds.com's "100 Best Cars of All Time", "Best Engineered Car of the 20th Century" by the Society of Automotive Engineers, Car and Driver magazine's "Best All Around Car" (nine out of eleven years), and first in the "100 Coolest Cars" from Automobile Magazine.
Expanding into the concept car arena, the Corvette has been re-imagined by the likes of Harley Earl (introducing a prototype which became the first Corvette), Bill Mitchell (credited with the Stingray), Larry Shinoda (who is responsible for the Mako Shark designs), and Zora Arkus-Duntov (who designed the Aerovette). The latest iteration of the vehicle combined design elements from both the 1963 and 1968 models.
For a look at some of these historic Corvettes, enthusiasts can visit both the Bowling Green Assembly Plant (opened in 1981) and the National Corvette Museum in Bowling Green, Kentucky, which opened in 1994. The Corvette Hall of Fame (sponsored by the museum) also retains space there, adding a few memberes each year to the list of people who have contributed to the Corvette's ongoing creation.
2156 total views, 3 today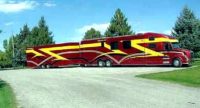 In the market for a custom coach, conversion, camper, RV, or commercial coach? Powerhouse Coach Company wants your business. Their 2016 model is quite affordable, and their attention to each customer's needs means their custom builds are just that – custom tailored to your wishes.
Powerhouse Coach prides themselves on using high-quality materials (they use a Volvo chassis for nearly every build, and it's said to last a million miles), and their product speaks for itself. Capable of enduring almost any weather condition (partially due to its 2000 lbs of torque and up to 650 hp capabilities and its auto shift transmission), the Powerhouse is available to drive by everyone — no CDL required.
Another perk is that since this is technically a recreational vehicle, you will never have to stop at DOT inspections, weigh stations, or port of entries. The coaches are also purportedly much safer than other standard vehicles, with a ⅛" steel plate below and engine out front, providing stability as well as easy to control braking. Whether you're wanting to haul vehicles, horses, or materials, Powerhouse promises that they can build something to your liking, capable of towing up to 40,000 lbs.
Starting from the ground up, Powerhouse begins with a Volvo chassis, then moves to constructing a second chassis for the coach body, which will be built to house tanks and wiring. This adds more space in the "basement" and gives the vehicle added strength. Next, Powerhouse uses NASA's own urethane foam insulation, which both insulates and protects. Once the floor is complete, the next phase is installing the slide-outs' two hydraulic rams and a gear rack system. It is interesting to note that most coach companies only include one hydraulic ram per slide, which can cause issues later on, requiring repairs, time, and lots of money.
The walls of a Powerhouse coach differ from other coach companies' builds in that they're fiberglass, gel coat sheeting, and vinyl board, not metal framing, though they do use steel reinforcements in specific areas. After the walls are up, the roof (which is a triple combo of fiberglass, rubber, and plywood) is put on, then everything is caulked so that the coach is airtight, and will retain heat or cool air.
The storage bays below sport welded hinges, and are constructed entirely of steel, though they are of course covered in a material akin to pickup truck beds to make them tough and resistant to wear and tear. After this is done, the interior of the coach is made to match the client's specifications, and once again lower quality materials (like Formica) are ignored in favor of hardwood, as all the cabinetry and flooring are done in house by professional carpenters.
Whatever you're looking for in a coach, Powerhouse Coach Company promises to deliver. If you're in the market, it's worth your time to visit their website, watch their YouTube videos, and see what's available. If you want to see their videos, you can view them on their Powerhouse Coach Videos page. You can also see their floor plans, construction process, and read up on their warranty at the Powerhouse Coach Company website.
3253 total views, 0 today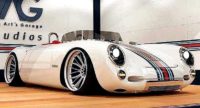 When most people think of hybrid cars, they typically think of of the Toyota Prius, Honda Accord, or the Ford Fusion. Some might know of the upper-level PHEV like the models that Audi, BMW, and Mercedes have added to their array of luxury vehicles. But what most people may not know is that Porsche's 918 Spyder is, in fact, a PHEV — that is, a plug-in hybrid electric vehicle.
The 918 Spyder (of which only 918 were made, and all between 2013-2015), designed by Michael Mauer, is a two-door roadster, a sports car capable of reaching a max speed of 210 mph. It has not one, not two, but three sources of power — a 4.6L V8 engine, and two motors (if you're wondering about the difference between engines and motors, it is simply that motors run on electricity and engines run on some type of combustion. The words are sometimes used interchangeably).
With a 7-speed PDK dual clutch transmission, a 6.8kW liquid-cooled lithium ion battery (with a range of 420 mi), the 918 Spyder has plenty of torque and power, reaching speeds of over 200 mph; it can also go from 0-60 in under 3 seconds.
In fact, the 918 Spyder is a street-legal version of the RSR, the racing Spyder introduced in 2011. The 918 can hold its own, however. It became the first series production street-legal vehicle to break the 7 minute barrier at Nurburgring by 14 seconds (in 2017, the Porsche 911 GT2 RS went even further by shaving off another ten seconds, keeping the record in the family, as it were).
The 918 Spyder's racing abilities aside, its hybrid build (the second from Porsche) also has a great perk in government incentives. While most of the inclusion of hybrids with an incentive are in North America, Asia, and Europe, there are a growing number of governments concerned about global warming, greenhouse gas emissions, and air pollution. Tax breaks, discounts on registration, or exemptions from customs duties are offered around the world for owners of hybrid vehicles, which can help offset the upfront purchase cost.
But even hybrid vehicles have issues, and the 918 Spyder had several recalls in 2014, including issues with rear-axle control arms, front lower control arms, and wiring problems. Despite these setbacks, the 918 Spyder and other hybrid vehicles have become more popular in recent years due to the increased awareness of environmental issues.
So is a hybrid car worth the trouble? That question remains up in the air as people discuss the pros and cons of owning a hybrid versus a regular vehicle, though hybrid technology has vastly improved over the last decade. With vehicles like the 918 Spyder, which eases the worry about getting stranded with a dead battery (since it has a backup gasoline engine), and more on the way, it might be time to consider purchasing something that will save the environment — and will still look amazing in your driveway or riding down the highway.
If you're in the United States, Germany, Canada, or China, you may get to see one of these beautiful vehicles. Take a peek and consider whether the future is gas-powered, electric, or hybrid.
112 total views, 0 today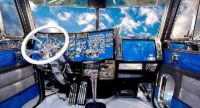 When I was little, we traveled a lot, mostly by car. We drove from South Carolina, Tennessee, or North Carolina to Wyoming and California and then back again. I loved sitting in the car and watching all the others pass by. While my parents weren't fond of semis (especially with kids in the car), I always wondered about them. They fascinated me. How did they travel such long distances by themselves? Where did they sleep? What did the inside of the truck look like?
I'm sure the quality and comfort of semi interiors have improved since I was a child (nearly twenty years ago now), and looking at pictures online it looks like if you have the money, you can have literally anything installed, including wood floors and a fireplace. If you comb through Pinterest, the results are astounding. Semi interiors have become way more personalized, especially for owner-operators.
After just one page of Google results you can find several small businesses that provide interior services, whether it's installing accessories or putting in an entire floor plan. You can find them all over the U.S., under such names as 4 State Trucks, Outlaw Customs, TrukGuts, and Portage Trim. Whether you want to upgrade your factory interior, or you want to trick out your show truck, Portage Trim has the capability to transform your semi-interior into something better. They've done interior work for television as well as famous show trucks.
You can get just about anything made custom to suit your needs and wants, from leather steering wheel covers, to chrome accents, to custom upholstery, to personalized logos, to additions to your sleeper, anything you can think of, these small businesses either have it or can make it to fit your specifications.
I have been seeing a lot of upholstery being re-done, either with patterns, leather, or racing gear. Neutrals with a pop of bold look great in an interior (one site showcased an interior of lime green and off-white), and can modernize an older rig. Just like in a house, you can complement the new upholstery with door handles, knobs, and floor mats.
Whether you've been needing an upgrade for a while, or you've been eyeing some pretty nice accessories, it's always wise to plan and budget for these purchases, as they will not come cheap if they are good quality. You'll need to find a business in or near your area or on your route and contact them to make arrangements. If you're looking at an extensive overhaul, you might need to consider other transportation while you wait.
Whether you drive a rig for work, attend shows, or travel for the pleasure of it, there will always be upkeep and upgrades to make on your vehicle. Knowing what you want and when you would like it done and how much you can afford to pay for said upgrades will allow you to plan ahead and make arrangements so that the process is as stress-free as possible.
And if you don't own your rig, there are still ways to personalize it without breaking the bank or going against company policy — a nice cushion, a warm blanket draped over the seat, and a few new, hardy floor mats does wonders.
10 total views, 0 today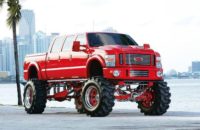 When you think of Ford trucks, you probably think of the Ford F-150 or F-250, the pickup trucks driven by sportsmen, ranchers, and suburbanites who wished they lived in the country. We had an F-150 when I was growing up, big enough to stow all our instruments in the back (we had the additional cover so the harp, violins, and cello wouldn't be out in the weather) along with our camping gear. We also spent plenty of time driving cross-country, moving from one state to the next with the back of the pickup full of our things.
However, people with small businesses and counties in rough terrain need something a little bigger. A little tougher. So Ford introduced us to the F-650 in 2000, and and it has been going strong ever since. The class 6, 7, and now 8 vehicle is sold to construction and towing businesses primarily, in the United States, Canada, Mexico, and Brazil.
The F-650 is available as diesel or gasoline fueled, with a six-speed automatic (diesel) or a five to seven speed manual (gasoline), though there is an option to convert to a propane or condensed natural gas engine should the business or driver wish to make the change. The truck is sold as a 2-door, 2 + 2, or 4-door vehicle, with a wheelbase of 134-281 inches. The second generation of the F-650, which became available in 2014, comes with a larger grille and headlights, leftovers from the remains of the Econoline van line.
What was once a join venture between Ford and Navistar International (their joint operation was called the Blue Diamond Truck Company, LLC) with a plant in Mexico became a Ford project completely in 2014, after Econoline production ended. A new plant was opened up in Ohio to continue making the F-650, and by the looks of things it isn't going anywhere soon, especially since it has been Ford's best-selling truck for forty years (and best-selling vehicle overall for the last thirty-five years).
An American classic, the Ford F-650 pairs well with another American classic, the great Shaquille O'Neal, who bought a customized F-650 to accommodate his tall frame, happily took a photo of himself and posted it on Twitter, thanking Ford for making supersized trucks that he could actually fit in and drive. His version of the F-650 includes a leather interior, heated seats, and many other extras that would only have been included in a prime F-250. There are apparently others who have purchased such "supertrucks", but most are relegated to a waiting list as each truck has to be built to special specifications. This does not deter people, as the thirst for larger vehicles remains steady, especially as people move to more rural areas, take up hobbies like off-roading, and start new jobs like ranching, or start their own companies.
With over thirty-five million F-series trucks sold (about one a minute since 2015), Ford has a winner and will keep providing its customers with quality truck options for the foreseeable future. Whether you own your own towing company, or construction company, whether you own a moving or storage business, and you need a flatbed, a tow truck, or a dump truck, if you're in the market for a vehicle that will carry whatever load you have, or just a supertruck that will fit you and the family and a bunch of gear for hiking, hunting, camping, and fishing, you might want to consider the Ford F-650.
79 total views, 1 today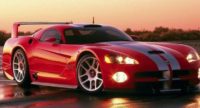 With the end of 2017 approaching, it's time to say goodbye to the Dodge Viper. That's right – Fiat Chrysler is closing the curtain on 24 years of production on the Viper. Though the official reason is said to be low sales figures, there are rumors that the real reason is the Viper can't comply with requirements that would add side curtain airbags to the vehicle. Whatever the reason, I'm going to be sorry to say goodbye.
The first time I saw a Dodge Viper, I was watching my brother play the computer game The Need for Speed. I was mesmerized by the slick, curved frame, the power, and the ferocity of the Dodge Viper. Later, whenever we spied one on the road (a rare occurrence in our part of the world), we would excitedly point and shout, then watch as it zoomed away.
The first design was introduced in 1988, but it took three years to create a full-size pre-production car, and another year to begin selling the Dodge Viper. It served first as a pace car in the Indianapolis 500, serving to whet the appetites of vehicle enthusiasts, who began buying the rear-wheel drive sports car in early 1992. It came with a V10 engine and a 6-speed manual transmission, but no side windows, exterior door handles, or a roof.
Most of these decisions were made so that the Viper was lighter on its feet, so to speak, especially with an engine weighing a whopping 711 pounds. It could go from 0-60 in under five seconds, and reach top speeds of 165 mph. Later, the car was available with extras like air conditioning, larger wheels, and a fiberglass roof.
The Dodge Viper went through several redesigns over its 24-year career, including several special editions, like the Dodge Viper Voodoo (unique interior and exterior colors), 1:28 Edition ACR (28 of these were made, only to be sold out in under an hour. They come with a monogrammed car cover, the "extreme aero package" and carbon ceramic brakes), and the racer ACR-X, which is not street legal.
Several famous people own or have owned a Dodge Viper at one time. The list includes car enthusiasts like Jay Leno, musicians (Jon Bon Jovi, Joey Fatone, and Reba), actors and comedians (Chris Farley, Roseanne Barr, Charlie Sheen), and even astronauts (Buzz Aldrin) have joined the Viper fan club.
The Viper is, itself, famous, having become a celebrity for a season of NBC's "Viper", which ran during 1994. The season was syndicated and ran for three more years before being taken off the air in 1998. The Viper has another claim to fame: it holds over twenty-five race records, including fastest 1990's car, fastest lap, and fastest American car.
With such a great track record, it's not too sad saying farewell to the Dodge Viper. It's still inspiring conversions and new vehicles, and will for a long time to come. I may, however, have to go root around in our storage and see if I can find a copy of The Need for Speed and relive some of the glory days.
55 total views, 0 today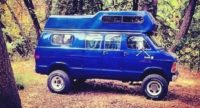 When you think about vehicles that break records, what comes to mind? Sports cars, racecars, and concept cars? Probably not the Dodge Ram Van, but surprisingly, it does hold a record — one to be proud of, in fact. Despite two redesigns of the original vehicle, the Dodge Ram Van holds a record as one of the longest used vehicle platforms in the US. Over three decades as a staple in the 70's, 80's, and 90's American family is something to celebrate.
Though the plant that put these vans together is now gone (Ontario, Canada's Pillette Road Truck Assembly was responsible for producing these nostalgia-inducing vehicles), the Dodge Ram Van lives on, particularly for those of us who recall with fondness the many hours spent inside it as we traveled from one side of the country to the other. I remember long, sunny afternoons in the very back seat, playing card games with friends and siblings. There were late nights where I fell asleep as my grandparents drove us home. There were TVs, VHS players, and plenty of space to keep us occupied for the duration of the ride.
It was a popular vehicle to convert to a cab-over motorhome in the 1970's, as well as RV and ambulance conversions later on. Despite its popularity with group homes, church groups, and the like, it was unfortunately surpassed by the Ford company in the 1990's. It didn't survive much longer after that, gracefully retiring in 2003.
It's all due to Dodge, however, that we even had this type of van to begin with. Their Maxiwagon and other large vans arrived in 1971, paving the way for Ford (which introduced its 15-passenger van seven years later) and GM (which waited until 1990 to offer its own version). Dodge's van was available as three options, Sportsman (which included passenger seating and side windows), Tradesman (which lacked both options of the Sportsman), and the Street van, which turned out to be the least popular. The most desired version was the Tradesman, as it was the best option to customize.
Through the years, the Dodge Ram Van went from a 3.7L engine to a 7.2L V8 engine, from a three-speed automatic to a five-speed manual, and grew from 178.9 inches long to 231.2 inches. The outside was not re-designed too much until the overhaul of 1998, which included an engine move, modern dashboard and door panel designs, and sideview mirror breakaway units.
If you're wanting to reminisce about your memories contained in the Dodge Ram Van, you might want to watch a little indie film called Napoleon Dynamite. That's right — Uncle Rico's orange van is a Dodge Tradesman Santana conversion van. The van is currently residing in Texas, where it is used at private and corporate events to raise money for Michael J. Fox's Parkinsons Research Foundation. You can follow its page on Facebook and hire it for your own 80's themed party. What better way to remember the glory days and one of the funniest films of all time than co-hosting a party with one of the most beloved vehicles in American history?
2769 total views, 0 today