About Wheels List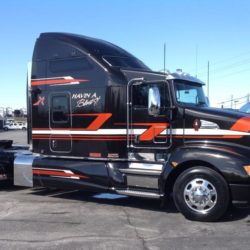 $178,950 The truck is almost new with 46,000 miles on it. ISX Cummins 550HP 18 series 18 Speed Ultra Shift Plus! 14K Front axle 40K […]
1795 total views, 0 today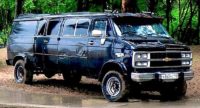 From 1964 to 1995, the Chevrolet GMC van (along with its competitors the Ford E-Series and the Dodge Ram van) was a popular choice for all sorts of vocational workers, such as plumbers, florists, and caterers. Its size and options, along with the inexpensive upkeep made it a practical choice for many small businesses during this period. It succeeded the Chevrolet Greenbriar Sportswagon, later to be replaced itself by the Chevrolet Express/GMC Savana.
The Chevrolet/GMC van was a compact van with a forward engine design and a standard four-cylinder engine, and the choice between a 3-speed manual transmission or a 2-speed automatic transmission, as well as optional additions including a passenger seat and heating. Its boxy shape and flat windshield became a classic look for vans in the 1960's and 1970's, though as those decades passed, the Chevy/GMC was renovated to have a more modern look.
With production taking place in Quebec, Canada and Ohio and Michigan in the United States, the Chevy/GMC van made its rounds across North America, and became a popular van to convert with the likes of Curtis and Starcraft. Throughout the years, manufacturers also added onto the van, either to keep up with regulations or to modernize the vehicle.
The Chevrolet/GMC van not only became popular with the general public because of its versatility and capabilities, it garnered fame by appearing on the A-Team series. A 1983 version of the van was utilized on the show, customized to meet the characters' needs. The 1983 van came with a 6.2 diesel engine, a revised grille, automatic overdrive, and a new steering wheel design.
In 1990, the van became the last van to be upgraded to 15-passenger capabilities, after the Dodge Ram Wagon and Ford Econoline did so in the 1970's. It had to extend its wheelbase to do so, jumping up to 146 inches. This size was kept for the remainder of its five years in production. There was talk of an electric van from GMC, but because of safety concerns and the high cost of production, it was scrapped and never revisited.
As with all good things, the life of the Chevrolet/GMC had to come to an end. Though it was succeeded by the GMC Savana, the van continues to be fondly remembered by many people because of the nostalgia associated with its use. Fortunately, there are still people who have preserved their love of the GMC van by restoring vintage vans — replacing the windshields, repainting and reupholstering, and changing out various machine parts.
If you're interested in joining a community of other people who enjoy vintage vans as much as you do, you can join online groups on Facebook, Ebay and Pinterest, as well as groups like the Vintage Chevy Van Club. There are a host of fans, around the world, who love celebrating these excellent vehicles, and they will be happy for you to join them in preserving these nostalgic vans. If you are interested, you can also purchase your own van and use these groups and forums in asking for help in rebuilding a van.
9279 total views, 1 today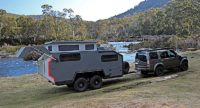 I remember when there were plenty of RVs on the road. I even spent a few weeks in one, traveling from the southern U.S. to Pennsylvania. I remember loving being able to move around while we drove down the road, and I enjoyed the compactness of it. I liked small spaces, and to be able to travel in comfort was a novelty. I was used to riding in the back of an Isuzu Trooper cross-country, and while I do have fond memories of that experience, it wasn't exactly luxurious.
Now, of course, with many people unable to afford the gas prices of an RV, let alone the price of an RV and its upkeep, there aren't as many on the roads these days. Fortunately, there is a way to keep traveling in comfort and style without emptying the piggy bank completely. The travel trailer is a nice balance between comfort and affordability.
Also called a camper trailer or a caravan, these miniature RVs hook up to your vehicle. They can range from being hardly more than a raised tent to a cozy hotel-like room. Many people use the same routes year after year, parking in designated camping spots and greeting the same friends annually. It's a subculture all its own, with vocabulary not used by the masses. There are people who travel from town to town, working odd jobs as they can find them (often called "workamping" as opposed to "glamping" or camping), others are retired and wish to travel, and still others just use them for vacations.
The travel trailer is a popular recreational vehicle in Canada and the U.S., as well as Europe, Australia, and New Zealand. There are different kinds according to each owner's needs, including the standard travel trailer (like the Airstream), the hybrid travel trailer (with pop-up and hard sides), the fifth-wheel trailer (which utilizes a smaller version of a semi hitch), off-road trailers (allowing campers to traverse countryside otherwise impossible), the toy hauler (for ATVs, four-wheelers, motorbikes, etc.), and the double-decker trailer (which is only two decks once the vehicle is not in motion).
With such little space in which to travel, these trailers are often built with multi-purpose use in mind, such as the beds that are converted to seating areas during the daytime, slide-out rooms, and miniature appliances such as a washer, dryer, microwave, refrigerator, and stove. Depending on the country and the make of the model, the travel trailer may also have such items as air-conditioning and external barbecue points.
If you're eager to try something new for a family vacation, or you're in search of a new hobby and want to see more of the country, then you may be the perfect candidate for a travel trailer. There are several brands to choose from, whether new or vintage, and customization is available for nearly every trailer nowadays. Fitted for your convenience and made for you down to the last detail, these travel trailers will be put to plenty of use for several years to come. Travel trailers are a great way to broaden your horizons, and if you are able, purchasing or leasing one will avail you of many opportunities not able to be taken before.
7017 total views, 0 today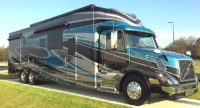 Whether you're looking for a motorhome, a stacker, or trailer, or even all three, it can be difficult to find one of each. Some companies only make motorhomes, others only make stackers and trailers, and some only make trailers and motorhomes.
Haulmark not only has motorhomes, but motor garages (for your racing vehicles) and a sport deck (for a horse trailer or recreational trailer). Whatever you're hauling, and wherever you're going, Haulmark promises to provide everything you need. So what separates them from their some of their competition?
According to the company, they pride themselves on providing luxury at great value, meaning that the rich and famous aren't the only ones able to afford them. They offer wooden cabinetry, unique floorplans that make the most of small spaces, and touches that make your motorhome feel less like a machine and more of a home.
Luxury items include marble backsplash, cedar-lined closets, a king bed, and stainless steel appliances in the kitchen. A garden shower is available in some models, as well as 42" and 32" inch televisions, heated porcelain floors in the kitchen and bath, LED lighting, and crown molding.
If you haven't seen Haulmark RVs, you might want to take a look at these beautiful, breathtaking motorhomes. They look like the insides of expensive houses, complete with throw pillows, soft carpeting, and plenty of windows. Visiting their site will give you plenty of material with which to daydream.
As far as the automotive side goes, a Haulmark RV comes with an automatic 4 leg hydraulic leveling system, electric brake control, a 40k heavy duty tag hitch, welded tubular aluminum cage construction, rubberized chassis undercoating, LED brake and turn signals lights, and heated seats.
Of course, if you're looking for something in which to travel with your other toys, you can choose to go the route of the motor garage, which lets you haul ATVs, bikes, and other smaller vehicles for your weekend or season travel plans. The motor garage allows you to travel in comfort without additional trailers. Of course, if you want a trailer to hitch to a vehicle you already have, then Haulmark can work with you to make sure you have a trailer that works for your needs.
The sports deck is also an option if you're looking for a stripped-down version of a camper that also has space for your toys, horses, and more. Included is a full kitchen and bath, several sleeping areas, and space-making slide outs. All of these can be made custom, as there are several floorplans available.
If you're interested in checking out the Haulmark models available, check out their website and see if one of their offerings will work for you. You can also purchase used Haulmark vehicles, or watch YouTube videos to see inside tours. If you're more interested in selling Haulmark, you can get information from their website on becoming an authorized dealer. Whatever the case, it's worth taking a look at these beautiful, luxurious RVs.
12004 total views, 0 today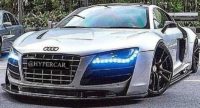 While Tesla may have cars that perform like they're from the future, whenever I think about the look of a future car I think of the Audi R8. Audi Sport GmbH's 2-door roadster sports car has sleek lines, a simple design, and plenty of power. The longitudinal mid-engine and quattro permanent all-wheel drive only add to the futuristic features of the Audi R8.
Manufactured since 2006, the Audi R8's aluminum monocoque (or put more simply, the "skin" of the sports car) and space frame (meaning the truss-like structure, which is configured in a geometric pattern) also do splendid job of making the vehicle appear as if it has arrived from a time not yet realized. It is also the first production vehicle to utilize full LED headlamps.
The Audi R8 was announced in 2005, after the concept car, the Audi Les Mans quattro concept, made appearances at both the 2003 Frankfurt International Motor Show and the 2003 Geneva International Motor Show. This is not to be confused with the racing car, the R8 Le Mans Prototype.
To make an Audi R8, the factory in Neckarsulm relies on less than one hundred workers and ninety-five lasers, which together put out anywhere from eight to twenty-nine cars a day. After the final 5-second laser inspection okays the vehicle, it can be sent to dealerships in the Middle East, Asia, Europe, and the U.S.
There are several variations on the Audi R8, including but not limited to the R8 Spyder (which had the feature of a retractable cloth roof), the R8 e-tron (the electric version of the Audi R8 which is slightly smaller than the original), the R8 GT (this version weighed less than the original and had more engine power, meaning it could reach speeds of up to 199 mph), the R8 Grand-Am (a racecar version that debuted in Daytona in 2012), and a police car version.
Since the Audi R8 is a mid-engine vehicle, it comes with wider tires on the back axle, either 18 or 19 inches, and they come from either Continental or Pirelli. It is also interesting to note that the R8 uses LED lighting for the daytime running lamps, or DRLs. This dedication to using advanced technology, slick design, and quality materials have made it a popular car ever since it appeared in 2006.
It has won multiple awards, including "Best Handling Car" and "Fastest Car In The World" (Autocar, Fifth Gear) and "Car of the Year" (Autobild, Automobile Magazine, MSN, and European Car), in 2006, 2007, and 2008. It was even awarded the "Classic Car of the Future" prize by Motor Klassik.
If you have any remaining doubt as to the car's future potential, the R8 e-tron was launched using a PS3 game called Vertical Run, in which players had to collect electric energy and avoid crashes to reach top speeds. In 2014, the Twitter campaign #WantAnR8 collected footage of virtual test drives to create an advertisement along with several recording artists. With the R8's presence in game shows, video games, social media, and racing, its impact on the world will only become more marked as time goes on.
3542 total views, 1 today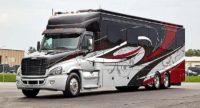 When you think of motorhomes and coaches, what do you think of? Do they all tend to run together, white or cream or brown motorhome one after the other, so similar in size, shape, and style that they're more boring than bold? Well if you think all motorhomes are this way, you're in for a surprise. The Renegade RV is meant to impress, to stun, to wow with its like-no-other presentation. Even one look at their website will start you on your way to dreaming about owning one.
What makes Renegade RVs different? It starts with the chassis. The Renegade RVs are all built using Class C chassis from the best, including the Mercedes-Benz Sprinter, and diesel chassis from companies like Navistar, Volvo, and Freightliner. Along with the highest quality chassis, the Renegade offers twin screw tandem axles on select RVs, which are rare enough in the industry to deserve a special mention. There are regular tag axles in some of the products, but the twin screw tandem axles make for added stability and traction.
Renegade also prides itself on offering luxury seating, like the air ride cab seats (also available for select models). You can adjust the seats to your liking, whether you want firmness or a more gentle ride. There is also lumbar support available, making this seating one of the most comfortable you'll find in an RV. There's also a heated seat option if you're going to be traveling in cold weather.
Another unique feature of the Renegade RV is that it comes with two-piece caps, unlike other RVs that traditionally come with a one-cap piece. The two-piece caps enable an easier removal of the lower portion when replacements are needed. Renegade RV prides itself on its innovation, dedication to providing quality products, and its cutting edge construction procedures, and this feature, along with the aforementioned options, make this RV a strong contender.
If you're not as interested in the outside as what's on the inside, Renegade RV also promises quality materials are installed inside the RV, including noise-isolating floors, an attic space without compromising roof heights (allowing for a solid top, which is also the industry's tallest interior), and one-piece sidewalls reinforced with wood and filled with insulation. This allows for the ultimate in floor-plan customization, as windows and cabinets can be placed anywhere. If that doesn't convince you, their hardwood cabinetry and doors with articulating door hinges might help seal the deal.
The Renegade IKON is the largest model available, but there are several others that combine both luxury and exceptional quality, such as the XL, Verona and Verona LE, Valencia, Vienna, and Villagio, all of which range in price between $118,000 to $735,000. If you're in the market for a stacker trailer, Renegade RV also has several models available, each created to meet a client's individual needs. Whether you need one constructed for your antique roadster, race car, or other, smaller vehicles, you can customize your stacker trailer by choosing aluminum or steel, tag, v-nose, or gooseneck configurations, a lift gate or a hydraulic ramp door, and the exact length you need. Whether you want an attachable trailer or an RV that meets your specifications precisely, you'll want to visit Renegade RVs and see what they can offer you.
3816 total views, 0 today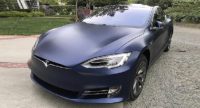 If you're interested in the future, concerned about the environment, or look forward to new technology, you've probably heard of Elon Musk and Tesla. The electric car company's Tesla S, introduced in 2012, is still on the cutting edge of electric vehicle technology, with the added bonus of earning the highest score possible for automobile safety (a 5.0 from the NHTSA).
The Tesla S 100D also has the distinction of attaining the highest EPA range of any electric car, averaging 341 miles between charges. It also became the first electric vehicle to reach the top of the charts in new car sales, doing so in Norway and Denmark. Though the U.S. makes up 57% of its market, the Tesla S, Asia, Europe, and Canada have all contributed to the growing popularity of this model.
After the Nissan Leaf, the Tesla S is the most sold electric car in history, and is the recipient of such awards as the 2012 Time Magazine's 25 Inventions of the Year and Consumer Reports' Road Testing, the 2013 World Green Car of the Year, Automobile's Car of the Year, Motor Trend's Car of the Year, and the 2015 Car & Driver's Car of the Century Award.
So what's all the fuss about? What does the Tesla S have that other electric cars lack? Perhaps its full-sized status as a five-door luxury liftback, rear-motor, rear-wheel drive, and various version (based on battery size, motor size, and equipment), and its electric powertrain (designed specifically as an electric powertrain, not merely switched with an internal combustion engine) make it an excellent investment.
With Supercharger stations popping up in the U.S. and Europe, the car is able to drive longer distances without causing the driver anxiety about being able to get home without a charge. In 2016, most American states have Supercharger stations, and it is expected that this will continue until they are plentiful enough to supply more drivers with the capability of driving an electric car.
There is also the controversial, limited autopilot feature (installed in the Tesla S since 2014), which includes a camera, radar, and ultrasonic acoustic location sensors, all of which provide a complete buffer around the entire vehicle. The wireless technology allows for limited self-driving and parking capabilities, and paris with the adaptive cruise control and lane departure warning to reduce car crashes by 40%.
Though the first fatal crash instigated a lot of talk about autopilot technology, it was determined that the driver was at fault, not the technology. Although the technology has not advanced to the point of a completely self-driving car (which Elon Musk states is because of software limitations and requires a narrow, advanced AI to be developed), the Tesla S is about as far into the future as we can go at this point.
With as much pollution and environmental health hazards as we are faced with today, the purchase of a Tesla S begins to make a lot of sense. The kinks are being worked out, so to speak, and the price will continue to lower, making it more and more affordable to those of us who do not make six figures a year. Of course, if Elon Musk has anything to do with the future of Tesla, we can look forward to even more radical vehicles in the future.
1586 total views, 1 today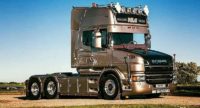 Over 100 years ago, two companies called Vabis and Scania joined forces to become a European powerhouse, delivering trucks, special vehicles, and buses to Europe. With production facilities in South America, Africa, Asia, and Europe, and over 40,000 employees, Scania AB is widely recognized as the premier European distributor of class 8 vehicles.
What began as two separate companies (one was involved in railroads while the other was in the bicycle industry) merged into one in 1911, and quickly became involved in the luxury car business, including a 1920 model that included a top hat holder. Sports cars were also a popular project, though as interest waned, the company feared they were on the brink of disaster.
During the First World War, Scania AB became focused on providing the Swedish Army with vehicles, revamping its facilities in order to do so. This led to the decision to solely produce large vehicles, which almost caused the disaster they had so feared previously. With some help from a banking family and a subsidiary in Denmark, however, Scania AB began to rise.
The Second World War provided another opportunity for the production of military vehicles, but after the war was over, Scania was able to hold on to their experience without losing finances. They instead became competitive with Volvo, branching out into jeeps and trucks. Exporting became a more serious business at this juncture, about half of Scania's sales.
Throughout the years, Scania has been sought after by several other companies, including Volvo and MAN, but Volkswagen was the eventual winner, holding 100% of the company's shares by 2015. In September 2017, Scania was fined over 800 million euros for participating in fixing prices with other members of the automotive industry (including Volvo/Renault, Daimler, MAN, DAF and Iveco) for the last 14 years.
Despite this scandal, Scania's long history stands in good stead, and it continues to produce and sell trucks, special vehicles, and buses commercially. Their line of trucks include the P-Series (construction, distribution, and transportation uses), the G-Series (construction and long haul applications), the R-Series (Which won both the 2005 and 2010 International Truck of the Year award and is available for long haul use), and the S-Series (which is notable for being the highest cab ever constructed by the company).
Chassis production is also a large part of Scania's work, mostly for coaches and buses used in cities, though there are complete buses put together for use in Scandinavia, including the Citywide, Interlink, Metrolink, OmniExpress, and Touring buses. Scania also produces engines for marine use as well as industrial jobs, such as moving large amounts of dirt and agricultural tasks. Branching out from engines, chassis, buses, trucks, and coaches, Scania has also produced a line of clothing specifically for truckers who utilize their vehicles, called Scania Truck Gear.
If you're ever in Sweden, you can see some of the Scania vehicles in the Marcus Wallenberg-hallen. Scania also has a concept car named the Scania Torped, which sports an environmentally-friendly eco-diesel V8 engine. Designed by Louise Temin, the Torped is a two-seat roadster with some similarities to the Dodge Viper. Whether Scania decides to explore more car production in the future, it will most likely continue to largely manufacture class 8 vehicles that will be used worldwide.
10218 total views, 0 today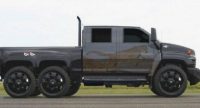 Is there another vehicle that can go from blue-collar work to white-collar work and maintain its credibility as a working vehicle? Maybe, maybe not. But the Chevrolet Kodiak has and will continue to serve in multiple capacities as a medium duty truck, whether it's used as a crew transport, a school bus, or carrying the President of the United States.
The Cadillac One, an armored vehicle which carried President Barack Obama to and from events starting in 2009, is not strictly a Cadillac. A combination of several vehicles (the exact plans of which are classified information), the Cadillac One rests on a Chevrolet Kodiak chassis, which was then covered by a Cadillac Escalade and other various and sundry vehicle parts.
Carrying the President of the United States is an enormous responsibility, as is another of the Chevrolet Kodiak's jobs, as a schoolbus. Notably, the Chevrolet Kodiak was one of the last few medium-duty trucks to retain a gasoline engine. While the schoolbus venture was ended in 2002, the Chevrolet Kodiak became a popular choice for another industry as a conversion pick-up, the Ultimate Class IV TopKick Pickup, which was chosen to star in a film, as Ironhide's alternate mode in the first three films in the Transformers franchise.
The Chevrolet Kodiak, also known as the GMC TopKick, arrived on the scene in 1980 as a front-engine, rear-wheel or four-wheel drive, medium duty truck. It was manufactured in Canada (Quebec), the U.S. (Michigan and Wisconsin), Mexico (Toluca), Colombia (Bogota), Venezuela (Tejerias), and Brazil (Sao Jose dos Campos). They were sold primarily as cargo haulers, dump trucks, and work trucks, all of which required a large towing capacity as well as medium duty torque.
Available as a two-door or a four-door, the first generation of the Chevrolet Kodiak had a mid-range diesel engine, a larger hood than the C/K, a heavier GVWR, and a larger grille. Though it was not as large as the Chevrolet Bruin/GMC Brigadier, it still managed to be put in the 5-7 class. Like its counterparts the Bison and Bruin, the Chevrolet Kodiak was named after a large beast (a bear in this case), and given a military slang nickname (the Topkick, like the Brigadier). It was available as a gasoline or diesel vehicle.
In 2003, a variant of the Chevrolet Kodiak was sold primarily as a vocational truck under the Isuzu brand. The Isuzu H-Series, as it was called, came equipped with a 7.8L inline-six, was was largely used outside of North America. It should be noted that this was the first conventional vehicle to be sold by Isuzu.
Though there was talk in 2007 of Navistar International taking over the production of the Chevrolet Kodiak, an agreement was never reached and instead the vehicle was discontinued in 2009, after almost 30 years on the road. However, this year, it was revealed that the Kodiak (under the new name of the Silverado 4500 and 5500) will re-enter the workforce in 2018, after nearly 10 years in retirement. They will all come equipped with diesel engines and Allison transmissions. We're glad to have you back, Kodiak.
26589 total views, 0 today