My family has had pretty good luck with vehicles. While there were a few duds in the bunch, we drove most of them to 200,000 or 250.000 miles. We had an Isuzu Trooper that kept going even after 300,000 miles. Part of the reason cars last longer is that they are well cared for – maintenance is key. Though some of us aren't always able to schedule regular maintanence, it's worth doing if you can save up or budget for it.
Luckily, the car that, according to information gathered by a large group of mechanics, compiled and presented on YourMechanic, isn't that expensive to maintain. It also has great gas mileage, so that with the low cost of upkeep make it a popular choice with younger people just starting out. The Honda Civic's average annual maintance costs are less than $225, and average mpg is 30. My youngest brother has a Honda Civic he bought used several years ago, and it has held up tremendously, through snow, hail, and ice. I don't know that he'd consider another vehicle after learning to drive this one — he may look for something like it in a decade when he'll need a new one. So far, however, he is quite content with his choice, and even though he isn't fond of driving in general, he seems to enjoy the Civic's handling.
The Datsun 240-Z
Could you imagine driving one of these in 1971?
In the 1970's, fluctuations in oil prices, starting with the 73-74 oil crisis, caused massive changes in the ways Americans bought cars, alternating between their favorite big, long, comfortable v8s and the new compact-minis from the same companies in addition to tons of Japanese imports which no one particularly felt any attachment to but found highly practical.
Despite there being no songs about the Asian imports in many of our driveways, one of the most exciting cars of the whole decade was the 1970 Datsun 240-z. Why? In the words of 70's historians Andrew Edelstein and Kevin McDonough, "Designed in Germany, this beautifully light and powerful sports car was as sleek as a Porsche and slicker than a Corvette and still cost less than $4,000 when introduced in 1971. Subsequent Z's increased in price and speed, but lacked the compact beauty of the original."
The Z actually debuted in 1969. It's was first a 1969 Nissan S30, marketed as a Nissan Fairlady Z 240 in some markets and others as the Datsun 240Z, and was designed by a team led by Yoshihiko Matsuo, the head of Nissan's Sports Car Styling Studio, and they started designing it in 1965. There was no specific direction for the car – just to develop a small roadster based around the existing 2 liter U20 engine (used in Datsun 2000 roadsters). There were two main designs the team worked on, and although management encouraged the other, more conservative design, Matsuo kept coming back to their sleek, sporty version of the Z. The plan changed in response to American MVSS safety regulations, too (as well as other difficulties with soft tops), prompting the team to work on a fastback/hatchback over a convertible Z that was part of the original design.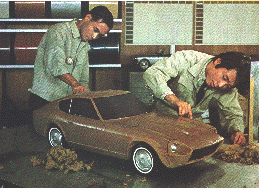 As far as power goes in those early models, the American 240Z had a 2.4 liter L24 inline-6 cylinder with twin Hitachi SU-type carbs, and was capable of 151 horsepower, while the Japanese version has the 2 liter and 130 horsepower.
They priced it low, around the same price as the somewhat-dated European MG, entering a market where European cars had American admiration, but Japanese cars didn't. With the low price tag, the new look of the sleek, modern, well-performing sports car got a real reception in the States from both buyers and the auto press, and dealers soon had to deal with wait lists for the car. Beyond the car itself, the Datsun 240-Z had an impact in that it positively affected the world's idea of Japanese cars. This fed back to Datsun, too, because with a broader acceptance, more cars of similar types sold, and that meant more dealers, manufacturers and parts, improving ease of buying a Z as well as of maintaining it over time.
The Coupe: From Humble Beginnings
The original coupe style was created in the era where horse-drawn carriages were still the preferred mode of transportation. It was characterized by front-facing seats instead of both front and rear-facing. This meant that the passenger space available was smaller, used for casual travel instead of work or family. Later, as cars became more and more popular, this coupe style became synonymous with a two-door, fixed roof vehicle. These were often smaller versions of four door automobiles, or even sporty variants of sedans. Though at first the definition was restricted simply to the door and roof configurations, over time it has become looser to include other terms.
The name "coupe" originally hails from the French. In English it translates into "cut", a reference to its cut-down shape and size. There are two ways to pronounce it, depending on if the accent mark is included in the spelling. Prior to World War II, it was pronounced "KOOP", though in the 1950's Chevrolet decided to introduce the Coupe (pronounced KOO-PAY) to distinguish it from other companies' offerings. Mostly, however, at least in North America, it is pronounced "KOOP", as in the Beach Boys' song "Little Deuce Coupe".
There are several variants of the coupe, going all the way back to the 1910's with the coupe de ville, which retained a chauffeur's seat along with the two front-facing passenger seats (usually a bench). Other variations include the business coupe, which was designed to aid salespeople in storing their wares, the club coupe, which had more passenger room, and the opera coupe, which was designed specifically for attendees of the opera, which was made so that the rear seating was easy to access, allowing for a simple step onto the curb as a valet drove the car away. The design elements vary from coupe to coupe, some of which will retain similar looks to their four door counterparts, while others will be molded into an entirely different model.
Coupes are typically not seen as family cars – there is little room to maneuver, and limited seating available. It's a great car for a younger person who doesn't have a lot to haul, or an older person who is traveling solo or with a partner. They're often found at good prices, and some brands are known for their durability (the Honda Civic for example). While they don't reach the entire populace, they are promoted and advertised to good effect, still quite popular with many individuals who like a simpler or sportier build than the typical four door sedan. I knew plenty of college students whose first cars were coupes, and there were plenty of young families I've known that started out with a coupe.
Well known coupe vehicles include the Alfa Romeo GT, the Honda Accord and Civic, the Dodge Challenger, Porsche 911, Audi A5 and R8, and the Nissan 370Z. If you're curious about the coupe and want to read further, the Coupe Wikipedia place is a great place to start, with lots of resources to continue your research. You can also find plenty of photos, videos, and fan pages online.