There is a new "fastest semi tractor on the planet," after Volvo broke the previous record, which had held since 2012. The old speed was 21.596 seconds for 1 kilometer of road.
Volvo's "Iron Knight," which pushes speeds of 276 km/h (171.5 mph), did the kilometer in 21.290 seconds.
FIA is expected to make the new record official soon.
The truck is a modification of the trucks Volvo uses in commercial transport — the FH model long-haul trailers. It has a similar powertrain and transmission, but they are altered to handle the larger forces.
The engine is a 13-liter, 2,400 horsepower diesel, and has a 6,000 Newton meters torque.
The old record was also held by Volvo. It was their "Mean Green" truck.
World record for longest gingerbread train
For the second time in five years, a Norwegian train station is home to the world's longest gingerbread train.
In Norway, a new train station is home this season to the 370.75 meter long gingerbread train. Note: for this record, there can't even be 1mm gaps between cars. The gaps were filled with sugar.
The previous record — from 2011 — was 206 meters.
How much ginger bread is that? 700 kilograms. It took 800 kids in cooperation with local Holmestrand, Hof and Sande businesses to do it.
Photos: Lise Åserud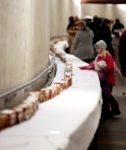 1,000 Cars Given Away to Company Staff as Holiday Present
So in India this month Hari Krishna Exports diamond company just made a substantial gift to it's staff: Savji Dholakia gave 1,000 cars and 400 apartment suites away to staff considered to be doing a good job by the company.
The festival the holiday gift was tied to? It's called Diwali. It's a Hindu festival of Lights.
The tycoon gave away almost 500 cars and 200 apartments last year in a similar fashion. (Click image to make larger).
The company, Hari Krishna Exports, will take on part of the loan installments on the cars and apartments for 5 years. The apartments were given to people who already had cars.
Image: Deccan Chronicle / Hari Krishna Exports