When life gives you a dirt road, make windshield artHave you ever had someone draw something like THIS on your windows when you didn't wash them? This is what San Antonio-based artist Scott Wade does:
Source: MNN
World record for longest gingerbread train
For the second time in five years, a Norwegian train station is home to the world's longest gingerbread train.
In Norway, a new train station is home this season to the 370.75 meter long gingerbread train. Note: for this record, there can't even be 1mm gaps between cars. The gaps were filled with sugar.
The previous record — from 2011 — was 206 meters.
How much ginger bread is that? 700 kilograms. It took 800 kids in cooperation with local Holmestrand, Hof and Sande businesses to do it.
Photos: Lise Åserud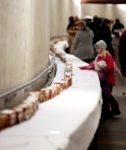 1,000 Cars Given Away to Company Staff as Holiday Present
So in India this month Hari Krishna Exports diamond company just made a substantial gift to it's staff: Savji Dholakia gave 1,000 cars and 400 apartment suites away to staff considered to be doing a good job by the company.
The festival the holiday gift was tied to? It's called Diwali. It's a Hindu festival of Lights.
The tycoon gave away almost 500 cars and 200 apartments last year in a similar fashion. (Click image to make larger).
The company, Hari Krishna Exports, will take on part of the loan installments on the cars and apartments for 5 years. The apartments were given to people who already had cars.
Image: Deccan Chronicle / Hari Krishna Exports