There are RVs, and then there are RVs. This is something you won't see every day, and actually its the first one we've ever seen. It's from the 70s, it's an Austin, and it's a camper home on wheels.
This one came up for auction recently, and although it's not an RV motorhome most people reading this will be able to swing by and pick up (because it's in Norfolk, England), it's interesting nonetheless. It's being auctioned by Anglia Car Auctions, though, for anyone who is in that area and wants this motorhome.
From the auctioneers: "This conversion was completed in 2016 just three months before it became a finalist in George Clarke's Amazing Spaces Shed of the Year. It has featured in many newspaper articles, copies of which are provided. It was also invited to Carfest North and South following it's success where they were greeted by DJ Chris Evans. Fitted with a Nissan 2.3 diesel engine. Last MoT'd in 2016. The vendor has included some photos of the rebuild." They estimate the bid will be between 9 and 12,000 pounds.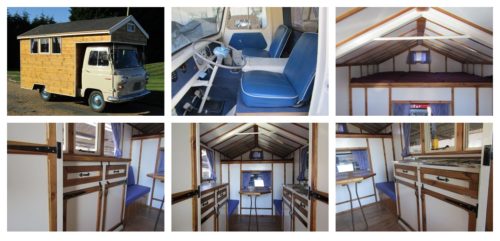 What is a motorhome rally?
If you're new to the world of RVs, "boondocking" and a more nomadic lifestyle, you may be unaware of the large community of RV owners who participate in rallies. Unlike what one normally thinks of when considering vehicles and rallies, an RV rally is more like a convention, a gathering of like minded individuals who share a passion for RVs and the lifestyle that goes with them. Rallies are held all over the world, and there are several popular sites across the U.S. with either local chapters, RV brands, or regional groups.
You can expect a wide range of activities at a rally, including meet and greets with the community, seminars, safety training, and even entertainment and arts and crafts. They are often family friendly events (a good idea for family vacations, perhaps), and are hosted by RV brands themselves or by various groups of RV owners. Your RV Lifestyle has an excellent write-up about what you can expect from a rally, what activities are available, and links to sites that have rally calendars available for those interested.
RV Clubs also has a 2018-2019 calendar of events, rallies, and the like available, although events only go through March 2019. Others will be added as they are confirmed.
If you're interested in checking out the RV lifestyle, take a look at the Family Motor Home Association and consider joining a local chapter.
What is a Luxury RV Park?
You've heard of 'glamping', the type of camping you want when you need some pampering in nature, but are you aware that there are luxury RV parks? These vacation destinations allow you to park your luxury RV (be sure you know what class vehicles are allowed – some only allow Class A) and enjoy the sights and sounds of exotic locations and partake in activities for the entire family without having to reserve hotel rooms, a bed and breakfast, or an Air BnB. These RV resorts cater to a more upper-class clientele, but if you can rent a luxury RV and want to save up for an unforgettable experience, it's well worth the extra money. Typically there are plenty of things to do nearby, or that are offered by the resort, and there are luxury amenities such as you'd find in a world-class hotel. With beautiful views, plenty to do, and your own space, it's the experience of a lifetime.
With locations in everywhere from Alabama to Utah, there's a luxury RV resort for everyone, whether you want to mine for your own gems, take a yoga class, or golf, there's a place for you. Some RV fans have even compiled lists of the best and most luxurious RV resorts in the United States, which you can check out at General RV and Campanda.