The Renegade Ikon Freightliner Motor Coach stands alone among other vehicles of its kind. Its power is unmatched by other motor coaches, and it is perfect for travel adventures with your friends or family. If you are interested in the most luxurious and stable freightliner motor coach, the star of Renegade's line is an exceptional example of what you are looking for. It makes traveling not only fun, but also exciting. If you are going to be riding with children, just imagine their delight at climbing into this divine motor coach.
The exterior of the Renegade Freightliner is enticing and you have a choice of beautiful designs to choose from. You can tailor it to your sense of taste and style. You even have your choice of floor plan for the interior and can truly make this motor coach reflect who you are. Leave your mark n the road when you travel and be the envy of others on road trip adventures. If you are a traveling explorer, go bold and majestic. This motor coach has such fine and meticulous appointments, you will be thrilled to drive it on the road.
And in the words of the world-class manufacturers themselves, "The IKON name says it all. As Renegade's flagship product and the most powerful luxury motor coach ever built, the IKON delivers unparalleled reputation with every mile it travels thanks to an unbridled 600 HP engine (*Freightliner Chassis only) and tandem rear-drive axles for 30,000 lbs. towing capacity. And when other RVs aspire to achieve true luxury, there's only one IKON with its legendary status."
The Renegade IKON takes luxury motor coach design to unprecedented extremes. Featuring four unique floorplans with opposing hydraulic slide-outs and an 87-inch ceiling height, every interior is breathtakingly expansive, and thanks to a flush fit, every exterior is perfectly seamless for the road ahead. Inside, quartz countertops, heated porcelain tile floors and sumptuous Villa Ultraleather furniture are all standard, along with a luxurious ensemble of premium name-brand electronics and stainless-steel appliances.
You can see our gallery for this one below. All the images on our website expand when you click them, so you can get a better look.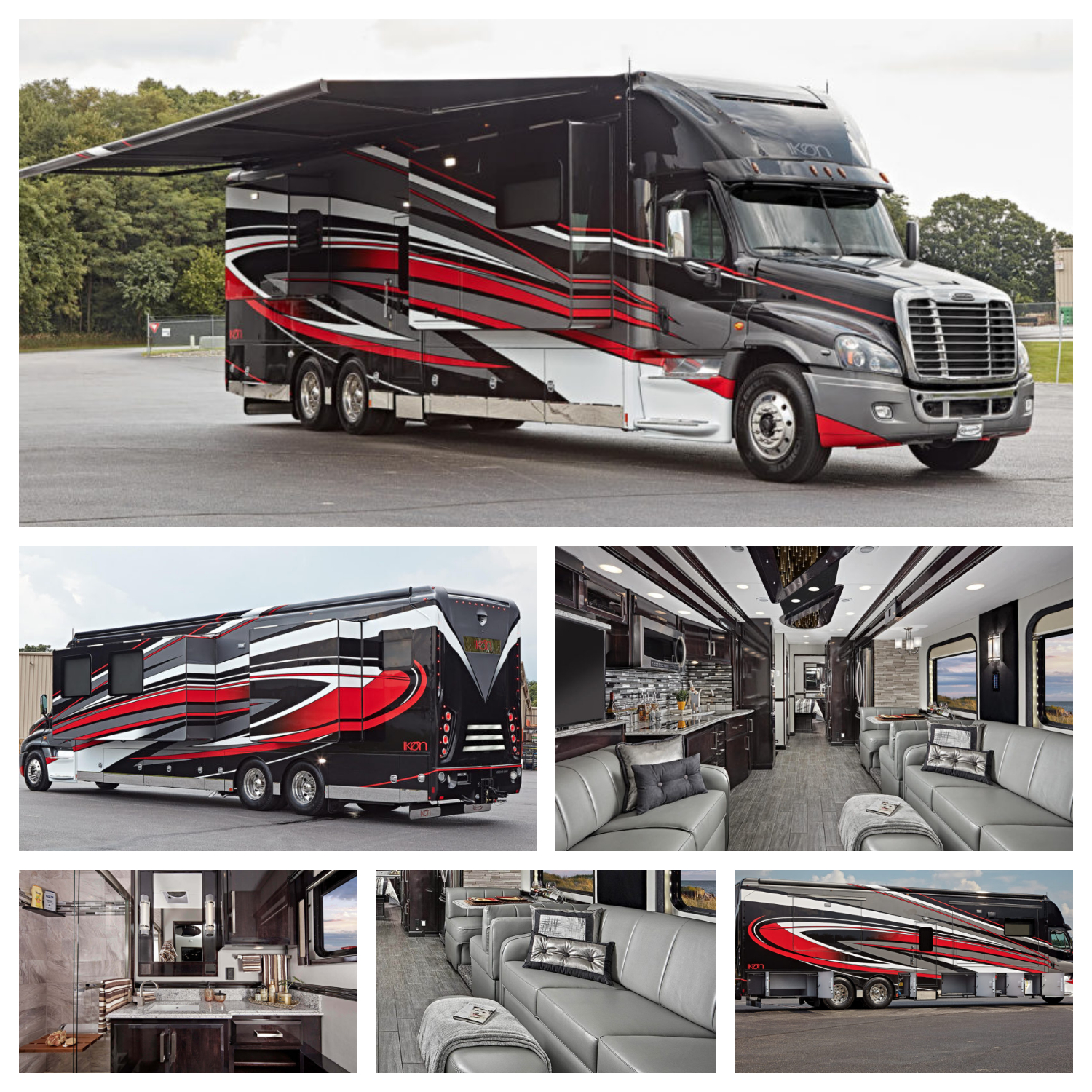 For more from Renegade RV, find them indexed in our vehicles, trucking and RVing directory. You can search for the company's name and look for suppliers and dealers in an area near you by looking at our regional headers. And to see more RVs, click here