One of the members on our page is selling this groovy-to-the-max giant Prevost RV.
A few details:
Penske series 60 Detroit. Tranny is an Allison 6 speed 550 horsepower. All brand new tires and paint job. Beautifully maintained. Around 86,000 miles. It has been extremely well taken care of. Listed for a steal at $120,000 Please contact Dave at (775) 790-6530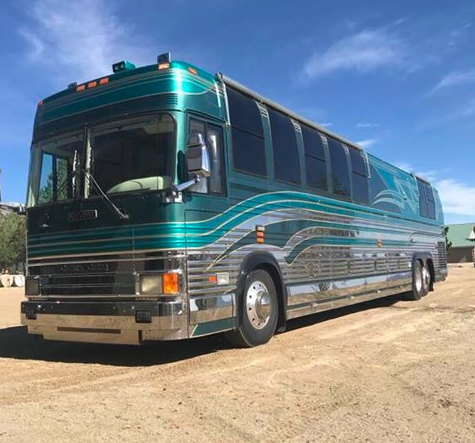 Get a Look at the New Sol Trailer
For RVers familiar with the Luna teardrop trailer (maybe you've seen it at an RV camp or being towed out to the mountains?) comes this new small RV trailer, the "Sol" which debuted recently at this years winter RV shows.
Compared with the Luna you may be familiar with, the Sol is bigger (longer, taller, and wider), with more space and also features a more modern looking exterior design.
The inTech RV Sol weighs just over 3,000 pounds (3050-3200), so it can be towed comfortably by most trucks and SUVs on the market, and sleeps 2-4 adults comfortably (the Luna was built for a single or double occupancy – you can see a photo comparison in the gallery). The Sol also has a bathroom and shower, so RVers will be way more comfortable when it comes to creature comforts.
One of the biggest features you'll notice from the photos is the wide tempered glass windshield that wraps around the front – similar to the Luna but bigger. This provides a wide single view from inside.
There are also options for the RV like a 10 foot awning and outdoor kitchen. All models come with LED lighting, 2-burner cooktop stove in the kitchen, farmhouse style sink, countertop, cabinets, queen bed, dinette, bathroom, fridge and microwave. We've indexed inTech RV in our directory now.
Extreme Light Travel Trailers
Having a travel trailer on site when you go camping and RVing is great, but even for people on a luxury RV budget weight is something you have to consider. The lighter the travel trailer, the more flexibility you have: you can tow it with a smaller truck (or car), and it costs less to transport in some cases (for ferries). You can also feel more confident when crossing small streams and sketchy parts of offroad trails. And finally, it's less worrisome when going up or down hills.
For those reasons, we're looking today at lightweight travel trailers. In this case, it's the Extreme Lit Travel Trailers by Forest River. How do they stay light? Their construction is based off of fiberglass and aluminum, which keeps quality of the build up but keeps weight of the final product down. The dry weight for these (there are various sizes) is from 4400 – 5900 pounds, so they can be towed with almost any truck, SUV, or van on the market.
Let's look at the smallest and the biggest. You can click our photos to expand them.
The smallest: the Vibe Extreme Lite 21FBS: "This is the smallest of the Vibe Extreme Lite floorplans and features a huge rear bathroom. There is plenty of elbo room in the corner shower as well as large linen storage area. This also features a dinette slide out in the main living area, and a murphy bed that doubles as the sofa. This creates a great multipurpose room without sacrificing your queen bed mattress! At under 4500 lbs, you can tow this with almost any truck or SUV!"
The biggest: "This is a tried-and-true bunk house floor plan done up in Vibe Extreme Lite fashion. This trailer weighs less than 5900 lbs and can sleep up to 10! The bunk room is closed off by a solid door, as is the front bedroom. This trailer also features a huge U-shaped dinette that can actually fit the family, and a comfortable sofa that folds into a bed for extra sleeping if needed. Also, the bottom bunk in the bunkroom can be sacrificed for an outdoor kitchen if you choose."