This little trailer has a little pop top, so you can get lots of fresh air, as well as let out any fumes from cooking. Heat rises, so this helps keep the unit cool without using air conditioning.
It's called the MeerKat, and its small enough to be towed with a 4-cyl engine, since its only around 900 pounds. The cost is around $13k for a new one. The size? 6 feet tall by 13 long, small enough to fit inside a garage or not take up more space than a car in your driveway.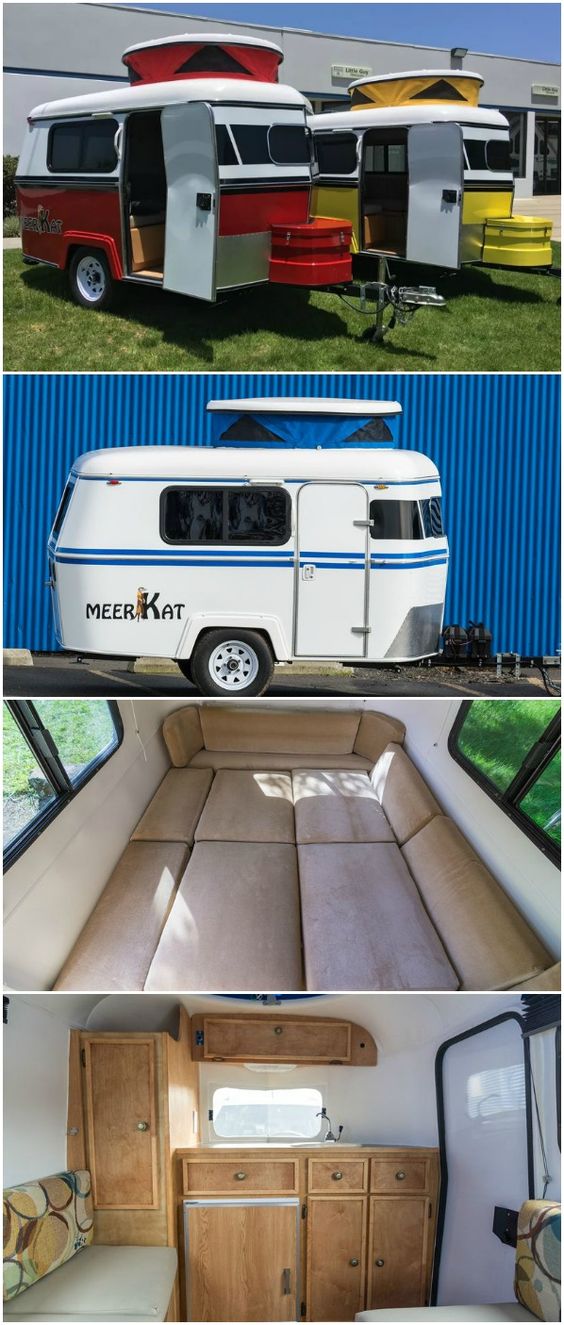 This 40" Luxury Motor Coach has a 12" Garage Bay
They only made a few of these, and there's just no other RV that's like them. But you can still get them, because they come up for sale on used RV and motorhome listings once in a while.
This is a luxury motorhome with a 12″ garage bay in the back. A 40″ motor coach with a 12″ garage bay in the back, actually.
And it's got enough power for its size, plus enough to carry everything you need for serious luxury RVing, including a vehicle that can park inside the motorcoach's garage bay: It has a 6.7L Cummins ISB Turbo Diesel (which puts out 350 horsepower, 650 pound-feet of torque) and is equipped with a 5-speed Allison auto transmission. The chassis for this luxury motor home is a Freightliner custom one. It's a Gulf Stream Bounty Hunter, and you could easily be comfortable riding around in one of these on an extended road trip around the whole continent.
It also has a 12″ slide out unit on the drivers side which adds 3 feet and turns the living room into a much bigger space. In terms of amenities, it has all the luxury motorhome features other RVs of this type have, from AC to kitchen appliances to hardwood and bathroom. The ceiling in this motor coach is 9 feet, and it has a 2×3 foot shower in the bathroom.
You probably noticed one of the unique things about this motorhome is the raised section in the anterior of the vehicle, which you can see in the exterior photo. That's a loft that is located above the garage bay. You can sleep more people up there, or use it as additional accessible storage. You can find these around, and we'll definitely keep our eye out for great ones. One of the best we've seen is the "Windseeker I," the first incarnation of the travel RV used by the couple behind wind-seeker (although they've changed RVs a couple of times since then!).
Have you Seen this New All-Electric Camper Van yet?
It went slightly under the radar when it was released, but these are the new Nissan e-NV200 / NV300 Camper mods. It's a totally electric vehicle meant to be used as an RV, a type of vehicle that so far hasn't received an serious electric vehicle entries.
The benefit of an electric RV is obviously that you don't need gas stations, just power bays, which can be installed at campsites, rest stops, or anywhere else on the road, plus, as we see improvements in solar charging, we could eventually see electric RVs that don't need to be charged, only occasionally maintained.
The current challenge in electric RVs is how to meet power requirements (for towing RV weights) with an electric battery. The e-NV200 by Nissan recently was upgraded to a 40 kWh battery pack, which brought its range up to 124 miles (200km) based on the WLTP combined cycle. That's a limitation, but if you think about it, how far are you going RVing with your unit? Obviously this would not be the unit to tackle cross-country touring, but when you go camping near your house, it's often less than 50 miles to the destination. Actually, when I go camping or just out to have a bonfire with friends it's less than 20km. So for that purpose, something like this would work. So far, the modified e-NV200 / NV300 electric camper van has only been released in Spain, I guess because Nissan expects it won't be as popular in North America yet, but it's a sign of where RV Camper Vans are going. If The venture works in Spain, they'll expand to other markets.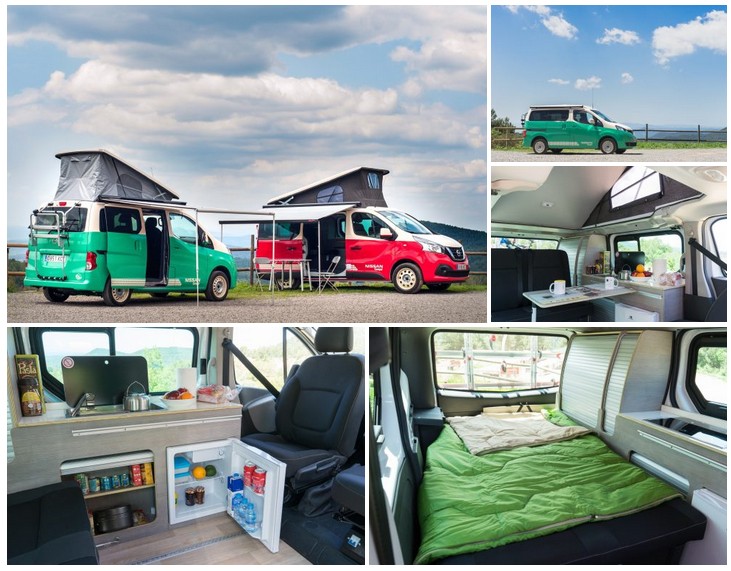 And to see an electric motorhome that is totally powered by solar panels, click here.