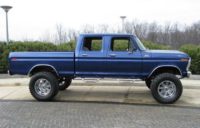 The Ford F-Series comes highly recommended – since 1977 it has been the best selling pickup in the U.S. and the overall best-selling vehicle in both the U.S. and Canada since the early 1980's. With several iterations to choose from (150 to 750, spanning thirteen generations for the 150 type), this light and medium-duty truck has cornered the market and become the go-to vehicle for a myriad of jobs.
The pickup also has a range of special models for those wanting a more unique look or extra features – from the unibody (similar to the Ranchero) to the special edition F-150 Nite, Eddie Bauer and Harley Davidson, to the SVT Lightning, Raptor and F-150 Tremor (high performance versions of the pickup), to the F-150 Platinum (a luxury version), there are plenty of trucks to fit every buyer's needs and wants, whether they're looking for a truck in which to go camping, or simply want a sleek looking vehicle with hauling capabilities.
Despite its main designation as a work truck, it has been entered in and won several races, including the San Felipe 250 (winning a total of eight races in the late 90's to mid 2000's), the 2000 NASCAR Craftsman Truck Series, and the Primm 300 (three times).
Outside the U.S. and Canada, the Ford F-Series (particularly the special editions) enjoy a following in Europe, Australia and China, where they are often added to car enthusiasts' collections. The pickup is also sold in certain parts of Central and South America, Africa, and several territories and island chains around the world.
Though the Ford F-Series has been reimagined and retooled throughout its generations, it still remains one of the most popular pickup trucks, able to perform a wide variety of jobs due to its rugged durability, while still retaining its image as a powerful, sleek pickup.
4928 total views, 1 today