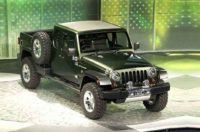 While only a concept since 2005, Jeep has finally decided to put into production for sometime in 2017 the Gladiator or Wrangler truck, whichever they choose to badge it as. From a prior era, Jeep Gladiator was a full-size pickup truck sitting on a large SJ (Jeep Wagoneer) platform in production from 1962 to 1988. In addition, it saw service in the U.S. Armed Forces and civilian usage. Many versions of the Jeep pickup were manufactured in other markets. But what is unique is it's iconic design, versatility and powertrain.
Jeep is long known as the manufacturer of superb off-road vehicles and the name is universal. Jeep has realized the pickup potential and decided to move forward with a launch of this model. Nothing comes close with the vertical grill design, spacing the bumper ahead of the body to still accommodate such features as a winch. What I personally have an infinity for is the limitless modifications that can be done to these vehicles and the parts suppliers who can suffice your every desire, from changing bumpers, lift kits and body armor. Also, worthy of mention is the positioning of the spare wheel on the bed behind the driver, vertical most certainly.
The versatility is great! The bed is a modular one, that is capable of changing positions varying on what you want and need to retrieve. If you so choose, the two seats in the rear can be removed to allow for two more feet of extra space. For off-road agility, there will be an all-wheel-drive system and an 8-speed auto. The interior is a copy of the Wrangler and rear seats suitable for short trips, with back seat comfort not the focus.
Under the hood will be the 3.6 Liter V/6 as seen in Wrangler, however adding the 2.8 Liter turbo diesel would be great, but no final details at present. Such engines have been standard equipment in markets like the U.K., however new to our shores. With the Mopar partnership seen with Fiat, greater powertrain choices are evident.
Whenever the Jeep pickup is reality the hardest part on purchasing may be deciding on color choices. The starting prices will range from $29,000 to $32,000 and topping out at $50,000 hinging on options.
By Willys6
146206 total views, 0 today