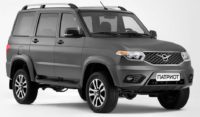 They start from 12000-15500 US dollars in Russia, and they're 4X4 SUVs. They're called "Patriot" and they're made by UAZ. For the price, they might be worth a look, even if shipping them over might not be something that's going to happen right away.
An interesting insight from Stephen James Cooper: "When UK leaves EU, I think there will be a new market for Russian Off road cars, if they can be engineered to RHD. There are no Landrovers in UK anymore and all the Japanese vehicles are so 'complex' There is a place in a farmers heart for simplicity."
What do you think of these vehicles? Should we get some in North America?
Specifications
Wheel configuration: 4×4
Number of seats: 5(9*)
Dimensions, mm: 4647x2080x1900/2000(with roof frames)
Road clearance, mm: 210
Equipped vehicle weight, kg: 2070
Full weight, kg: 2670
Cargo capacity, kg: 800
Max. speed, km/hour: 150
Fuel consumption, at 90 km/h; litres per 100 km: 14,0/10,4/13,2(city /out-of-town/ mixed cycles)
Engine: ZMZ-409.10
Fuel: Gasoline A-92
Volume, litres: 2,693
Maximum capacity, kW (horsepower)/revolutions per min: 94,1(128)/4400
Maximum torque, N·m(kgf·m)/revolutions per min: 217,6(22,2)/2500
Transmission: Mechanical, 5-stage
Gear box: 2-stage(I-1, II-1,94)
Front brakes: disk-type, ventilated, with two cylinders,with floating caliper
Rear brakes: drum-type, with one cylinder, with automatic adjustment of the clearance between the lining and the drum
Tires: 225/75R16, 245/70R16
11691 total views, 0 today