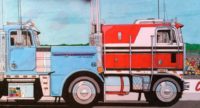 This is some of the work by truck hand-drawing artist who goes by the handle of Truck'art Bob.
We've been watching this guy for a while.
Yes, guys and gals, he does all kinds of trucks, and I'm sure he's available for special art commissions. He also sells prints and t-shirts. Make sure to check out some of Truck'art Bob's pictures, and also check out the photo of Bob and his display. If you want to contact him, click here to go to his sales page.
1751 total views, 1 today