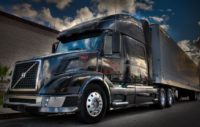 First introduced in 1927 with headquarters in Gothenburg, Sweden Volvo is a global leader for long haul driving. At this time, Volvo is manufactured in several countries around the world to suit the local needs and is the world's second leading brand of large trucks. Volvo has been known the world over primarily for safety. It was the first firm to introduce 3-point safety belts and provide driver-side airbags standard in every truck produced. A truck to look at for styling, technology and driver well being.
One would have to admit, when it comes down to the conventional they are probably the most streamlined aerodynamic trucks out there. Volvo is also working on further prototypes with even less wind drag. New bumper redesigns permit for lower bumper placement, which will deflect more air underneath the steer axle. With new bumper end caps serving to guide more air around the rig versus below it. Also, a flared chassis fairings provide for improved wind flow on trucks with short wheelbases, directs the air away from the wheels and down to the trailer skirts.
What sort of technology has Volvo been employing and perfecting? How about active safety technology—a responsive ability to avoid accidents or lessen their severity. Volvo offers the newest version of the I-Shift, the industry's most advanced automatic transmission. Common rail fuel system provides finer control, permitting faster more precise fuel injection for greater fuel economy. With increased fuel efficiency Volvo trucks lessen environmental impact and is a partner with the U.S. Environmental Protection Agency in the SmartWay tractor program.
With intelligent design Volvo maximizes comfort and visibility. Also, offering "idle drive"; for example to roll forward at a controlled speed free of using the foot pedals all can be done from the cruise lever. Volvo states 92% of its trucks are now delivered with Volvo powertrain and 74.7% with the now-standard I-Shift.
Since Volvo has been a long established world leader and in second place at this time, the innovation they are known for are definitely worth a look.
By Willys6
2014 total views, 0 today