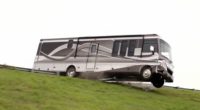 Hollywood film producers are not known for taking chances. So an R-rated film about a drug dealer taking his RV to Mexico might seem on the surface a bad gamble.
But the 2013 movie "We're the Millers" was definitely a winning bet.
And a distinct departure from the usual family rated G-comedies produced by movie-makers.
Aided undoubtedly by stars such as Jennifer Aniston (as a stripper) and Jason Sudeikis (the drug dealer), the film cost a relatively small budget of $37 million. But it earned a whopping return of $270 million.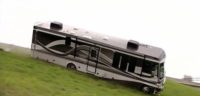 It was not only a departure from usual Hollywood "safe" movies, it did well at the box office despite tepid reviews by critics.
It apparently had no trouble finding an audience of more mature movie-fans who appreciated its comedy despite its adult rating.
As one patron put it:
"This was one of the funniest movies I've ever seen. I highly recommend it, but it is not for kids or for anybody who is easily offended. It had a lot of raunchy things and foul language, but they work a lot of funny things into it."
The plot is perhaps an unlikely one: a veteran pot dealer creates a fake family.
Fake wife, fake kids.
They are used to disguise his effort to use his RV to move a huge shipment of weed into the US from Mexico.
"The 'Millers are headed south of the border for a Fourth of July weekend that is sure to end with a bang," is a summation,
The RV, which plays a prominent role, is also unusual.
It's one of the Encounter line of Coachmen motorhomes.
Basically, anyway.
The film was a showcase for the Coachmen division of Elkhart, Indiana-based Forest River Inc. It showed off what is known as Ford's durable and dependable 22,000-lb, F-53 stripped chassis upon which the "Encounter" line of Coachmen motorhomes is based
News reports say that two Coachmen Encounter RV units were used during filming, as well as a 1991 Foretravel Grand Villa Class A unihome. The later was on a Chevrolet chassis. The Triton V-10 engine was also a prominent feature (distinct with noise and a V-10 emblem on the hood).
What made this movie a success may have been partly its R rating, which is given for "crude sexual content, pervasive language, drug material and brief graphic nudity."
All of which may have been factors for ticket-buyers.
But the motorhome itself may also have contributed to its success.
Motorhomes in movies have long been a prominent feature of films since the 1950s when Lucy and Desi Arnaz ventured out in disastrous fashion in "The Long, Long Trailer."
And there's been continuing debate on which were the best and worst.
Without entering that route, the Winnebago may deserve the academy award for "best" RV.
At least when it comes to not doing very much, but in number of appearances.
Movie-dom fascination with RV's might be traced to the 1950s,
That was when a 40-foot-long, 1953 New Moon was the star trailer in the Lucy-Desi film of 1953 which started the RV movement. Memorable scenes included Lucy's (unsuccessful) efforts to cook a dinner. The most dramatic moment may have been when the trailer almost fell off a cliff, a moment many other RV riders may have sympathized with if not always experienced.
But we soon see the Winnebago in movies such as "Lost in America," and "About Schmidt," and even "Spaceballs" and "Independence Day." The latter is best described as serious "science fiction."
A Winnebago was also the unsung character in the highly successful "Independence Day" film about aliens trying to take over earth. Not really a starring part for the RV since it was mostly seen as crop duster and alien abductee Randy Quaid took his children with him to fight the aliens.
In the science fiction category…or at least comedy fiction…the film "Spaceballs" also had the mad creative genius of Mel Brooks in another Winnebago.
"Schmidt" in a Winnebago Adventurer is all about a recently-widowed man's efforts to find himself during a solo road trip (which may help explain why it was not a major hit)
"Lost" starred well-known comedy writer Albert Brooks and Julie Haggerty as a corporate couple who abandon their lives to travel easy-rider style across the country.
A much bigger box office hit was "RV," which featured a bus from Forest River Georgetown RV.
Bob (Robin Williams) convinces his family into taking a business trip disguised as an RV adventure. Many scenes of mayhem such as running over cars and shopping carts and an RV sinking in a lake. The family endures and wins in the end.
Also a hit: "Meet the Fockers," which featured not only great actor Robert DeNiro but also a 2007 Pace Arrow. A tale of the difficulties of soon-to-be in-laws.
In the lesser known film category, there was also the 2006 "Motorhome Massacre," which featured an Argosy "Woody."
Good times in the RV till the machete-throwing crazy arrives to spoil the fun.
By David Wilkening
4669 total views, 1 today