Has anyone seen this big sleeper semi on the highways? It's the Puckett's touring ride.
Shared by ARI Legacy Sleepers, who did the work on this giant rolling apartment in lime green.:
"We are enjoying life again. The first 5 years of our trucking career we called ourselves "Professional Tourists." Then the next 20 years it became a grind of a job. All work and no play. Getting our new sleeper took us back to our earlier days. I LOVE the ability to go to the campgrounds. So we aren't stuck at the truck stop, with our main entertainment of going in to eat. We can ride our bike and swim at the campground pool. My husband loves to cook and now we have dinner parties in ours. Or how about the fact that I can sleep next to my husband. Not feet to head like we had to for so many years. It is unbelievable the difference having this much space has made in our lives. Thank you ARI!" – David & Karen Puckett (a.k.a. "Firefly")"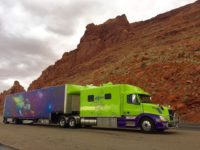 What is the best light pickup?
Most people I know that have purchased a pickup have done so for one reason: they needed to haul stuff around. My family owned a pickup for several years and we got it because we needed a covered bed to carry around our instruments and luggage while we traveled. Some truck enthusiasts are brand-conscious, others care about the engine type, and others are more interested in hauling and towing capacity, which makes it difficult to be completely objective when comparing vehicles. However, if you're looking for an all-around best performer in the light duty pickup truck arena, you can't get any better than the Ford F-150.
The Ford F-150 comes with 385 hp, a V8 engine, and has a payload capacity of 3,300 pounds. While it isn't as rugged as some other trucks, it is definitely the one you want if you're looking for a truck that will perform at high levels in every instance. Of course, if you're environmentally conscious and want your transportation to echo that value, you can take a look at the Ford F-150 EcoBoost, which comes with a turbocharged V6 engine, an even greater towing capacity than the original, and though it has less payload capacity, it evens out with more fuel economy and more torque.
It should be noted that to reach the pinnacle of performance, the options that should be chosen prior to purchasing a Ford F-150 are two-wheel drive, a long bed, and a regular cab.
Which truck has the most horsepower?
In order to understand the importance of having the most horsepower, it might behoove one to ask, what is the definition of horsepower? There are several types, but for our purposes, we will be utilizing the mechanical or imperial horsepower rating, which is equal to 745.7 watts of power, or about 550 foot-pounds per second. That's quite a lot of power to handle for any one person, but we use trucks every day for a variety of reasons, including everything from work to play. When considering upgrading to a higher horsepower engine, you may want to know which trucks have the most horsepower.
There are actually two trucks tied for first with 450 hp – both of them belong to Ford. The first is the Ford F-150 Raptor, a truck made for those who enjoy off-roading, rough riding, and general roughhousing in their vehicles. It was built specifically for rugged conditions, but if you're looking for more of a heavy duty hauler, you could take a look at the other 450 hp vehicle that Ford offers, the 2019 F-250 Super Duty. It is touted as the best-selling truck in the United States, partially because of its reputation as a hard worker and its ability to tow over 20,000 pounds (which puts it ahead of all other competitors in its class).
Whichever truck you choose, Ford promises a long relationship and peak performance from both models.