Has anyone seen this big sleeper semi on the highways? It's the Puckett's touring ride.
Shared by ARI Legacy Sleepers, who did the work on this giant rolling apartment in lime green.:
"We are enjoying life again. The first 5 years of our trucking career we called ourselves "Professional Tourists." Then the next 20 years it became a grind of a job. All work and no play. Getting our new sleeper took us back to our earlier days. I LOVE the ability to go to the campgrounds. So we aren't stuck at the truck stop, with our main entertainment of going in to eat. We can ride our bike and swim at the campground pool. My husband loves to cook and now we have dinner parties in ours. Or how about the fact that I can sleep next to my husband. Not feet to head like we had to for so many years. It is unbelievable the difference having this much space has made in our lives. Thank you ARI!" – David & Karen Puckett (a.k.a. "Firefly")"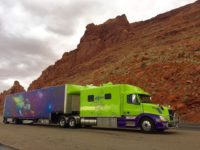 Chevy's Crew Cabs: The Silverado and Colorado
If you don't own or regularly drive a pick-up, you may not be aware of the difference in types of cabs. Even if you are aware, different brands use different terminology to denote changes made in the seating arrangements and door types. Chevrolet uses "crew cab" for their 4-door trucks that hold 4-5 adults, and the doors are typically hinged in front. While they've sold crew cabs for quite some time, there are only two that are currently being sold — the Chevy Silverado and the Chevy Colorado. Both are available in a variety of styles from 2-door to 4-door and even Dually. Past offerings in the crew cab configuration include the Chevrolet C/K truck.
Depending on what you want out of a truck, you may need to compare the Silverado and Colorado and figure out which one will work best for you. The Chevrolet Silverado has been around since 1998, and is considered a heavy-duty and full-size truck. It was the model to replace the Chevrolet C/K in the late 1990's. Currently, the Silverado is sold with the option of a gasoline or diesel engine, as well as updated technology such as WiFi connectivity, an infotainment system, and plenty of advanced safety features.
The Chevrolet Silverado was also used by the military, mostly as cargo haulers, though some were used as troop carriers and ambulances. They were outfitted with different paint colors and military grade items like weapon supports, blackout lights, and additional controls. There was also an option to include the Enhanced Mobility Package (EMP), which added items such as beadlock tires and anti-lock brakes. About 2,000 of these special military vehicles were sold internationally.
If you're looking for a smaller, mid-size pickup, then the Chevrolet Colorado might be the one to inspect. It replaced the GMC Sonoma as the compact and mid-size pickup for the GMC/Chevrolet brand in the early 2000's, and is produced in factories from the United States to South America and Asia. Only in its second generation, the Colorado has already been shown at Bankok Motor Show and the Australian International Motor Show, and has a few variants, including the Holden Colorado, available in four trim levels, or with an additional Thunder Edition, which includes a nudge bar and towing kit. It also won awards in 2015 and 2016 for The Truck of the Year.
While the Chevrolet Silverado and Colorado are the only current offerings as far as crew cabs go, there are previous models that can also be found for purchase, such as the GMC/Chevrolet C/K. While it's unclear how long both the Silverado and Colorado will be around, it's quite likely that their designs extend at the very least into the near future. It'll be interesting to see how much technology will change the interior, however, as there are so many more gadgets and accessories that are becoming a requirement for even standard packages.
If you're thinking about purchasing a truck, you may want to take a peek at what Chevrolet has to offer. If you'd rather just learn more about these types of vehicles, a visit to their respective Wikipedia pages is a great place to start.
All You Need to Know About the Biggest Rigs
Freightliner
Freightliner is a true American truck. When other trucks couldn't handle the terrain in the Western United States, Freightliner stepped up and started altering them and then eventually making their own trucks to haul up steep grades and over long distances. Though production was halted during World War II, Freightliner picked right back up, moving its headquarters from Utah to Oregon.
Manufacturing has taken place in both the United States and Canada, mostly in the Western and MidWest states (such as Ohio, Oregon, and Utah). Though the company has changed hands several times since its inception in the 1930's, 2018 has been a good year for Freightliner, which has promised to hire a large number of individuals for their Ohio plant, as there has been a purchasing increase in the recent past. The market has also become global, including such places as Germany, South Africa, and New Zealand.
Freightliner is best known for their class 5-8 trucks, and their biggest, most popular seller is the class 8. They have also done work in the form of full-size vans and bus chassis, which are available as cargo vans and school buses, respectively. One of the newest ventures for Freightliner is their team-up with Tesla, which is providing an electric motor for Freightliner's vans.
Kenworth
Unlike Freightliner, Kenworth produces only medium and heavy-duty class 8 trucks. Based out of Washington State (though originally also from Oregon as well), Kenworth's reach is also global, with products being manufactured and sold in the United States and Canada as well as in Mexico and Australia. They were the first American company to sell trucks that came standard with diesel engines. What began in 1912 as a small family business grew into what is now one of three companies owned by PACCAR.
Kenworth also boasts star status, as some of its tractors and trucks have been featured in TV and film – the 1970's show "Movin' On" and the 1989 James Bond film "License to Kill". Adding to that, they have also been the recipients of the J.D. Powers Award multiple times, the latest in 2007 for "Heavy Duty Truck Product Satisfaction".
Though it was a large part of the bus industry at one point, most of its history has been largely forgotten, though there have been some efforts made to preserve such knowledge and models for future generations. An online museum, the "Gillig Transit Coach/Pacific School Coach Online Museum" has been responsible for maintaining information and photographs of this part of our automotive history. There is also a historical society, and Kenworth is often remembered during such events as the American Truck Historical Society's Annual Truck Show.
Mack
Unlike the other truck companies present in this list, Mack has retained its name (though it is now a subsidiary of AB Volvo, along with French company Renault) as well as the distinction of being the only American East Coast company that manufactures trucks, though instead of the typical classes, they provide class 8-13. They were previously known for their bus and trolley bus models as well. During World War II, Mack produced many trucks that were used by the American army.
Mack's manufacturing facilities are centered in Pennsylvania, with other locations in Venezuela, Australia, as well as other states along the East Coast, such as Maryland and North Carolina. Mack trucks are sold throughout North America, South America, Europe, and New Zealand and Australia. While most of Mack's trucks have been used for hauling, there was a period of their history in which they produced fire trucks, some of which are still being used today via refurbishment.
The story behind Mack's emblem, a bulldog, hails from World War I, when America sold many trucks to the British, who used the trucks on the front lines of the war. The shape of the Mack's front, short and squashed, was reminiscent enough of the bulldog to warrant a nickname, and later this was incorporated into today's gold or chrome emblem adorning all Mack products.
Peterbilt
What does Peterbilt have in common with fellow giant truck company Kenworth? They're practically family, in a sense. They're both owned by PACCAR, though of course neither of them started out that way. Peterbilt, however, has two base locations, one in the United States (Texas) and one in Canada (Quebec).
Started in the late 1930's, Peterbilt originally hailed from California, but moved offices to Texas in the late 1980's. The reason for its California roots was the lumber business. T.A. Peterman, the originator of the company, was a lumberman himself, and needed a way to get lumber from Washington to its various destinations. Lacking his own designs, he began altering military vehicles for the purpose, then purchased Fageol Motors during the Great Depression and began selling his own vehicles to the general public.
The ever popular Peterbilt 379, still collected, restored, and driven by fans of the brand, arrived on the scene in the late 1980's, only bowing out in the late 2000's. Its long nosed design was easy to spot, though it did go through several variations over the years, especially in the interior design of the truck. Currently, Peterbilt produces over a dozen different models, from the client-aided design of the 579 to the 330, 337, and 348, which are used in the creation of such vehicles as fire engines and snowplows.
Volvo
Volvo trucks also shares family connections with another truck on this list, the Mack. Volvo trucks were incorporated into the main Volvo brand after the company underwent restructuring in 2012. In 2016, it was recognized as the second largest company to produce a line of heavy-duty trucks. Based in Sweden, Volvo also has several factories around the world, in places like Russia, China, Brazil, the USA, and Belgium.
The company came to be in the late 1920's, and became a rousing success after it sold 500 units of its new vehicle. Nowadays, however, they make upwards of 190,000 units every year. Each acquisition opened up new markets, and today the Volvo brand is made and sold all around the world in over 70 countries. The original model, the LV1, gave way to a dozen different models sold across five continents. The Volvo F-Series (FH, FL, FE, etc.) is generally sold in Europe, Africa, Asia, and South America, while the V-Series (VHD, VNL, VNM, etc.) is marketed more toward North America and South America.
Like other big trucks, Volvo's models are used in a variety of situations. Some become dump trucks, others big rigs and haulers, while still others become garbage trucks and tractors. This ability to cater to a wide range of clients has helped Volvo stay at the top of the game.
Western Star
The youngest of the major truck companies on this list, Western Star began in the late 1960's, three or four decades after the other companies on this list. Originally Canadian, with a plant in British Columbia, Western Star was bought by an Australian company and moved to the Pacific Northwest of the USA in the early 2000's.
What differentiates Western Star from the others, however, is their specialization in class-8 vehicles, as well as their dedication to providing each customer with a unique vehicle. With a list of options including size of sleeper, various sized chassis, and five different packages for the interior, Western Star's lack of uniform design aids them in providing each client with a vehicle that is tailored to their specific needs. They also regularly update their safety features to ensure that they are meeting safety standards around the world.
While some of their vehicles were used in the military, logging, and mining industries, Western Star has moved to the forefront of a more scientific and green agenda, with its XE (meaning eXtreme Efficiency) being the first aerodynamic vehicle Western Star has offered. Other models are often used for construction purposes, and can be fitted with cranes, tanks, and dump bodies.
Western Star is also known for its appearances in film, most notably Maximum Overdrive and the Transformers series.
Even if you've never been interested in trucks, there are a lot of fascinating things to learn about them. The more I explore this world, the more interesting it becomes. Peoples' stories about what trucks have meant most to them, and how much they've traveled in them are worth hearing. If you, like me, are curious and want to learn more, there are several fan groups online that will gladly share information and details about meet-ups, should you wish to explore further and meet up with some of these dedicated fans in person.