Could you imagine driving one of these in 1971?
In the 1970's, fluctuations in oil prices, starting with the 73-74 oil crisis, caused massive changes in the ways Americans bought cars, alternating between their favorite big, long, comfortable v8s and the new compact-minis from the same companies in addition to tons of Japanese imports which no one particularly felt any attachment to but found highly practical.
Despite there being no songs about the Asian imports in many of our driveways, one of the most exciting cars of the whole decade was the 1970 Datsun 240-z. Why? In the words of 70's historians Andrew Edelstein and Kevin McDonough, "Designed in Germany, this beautifully light and powerful sports car was as sleek as a Porsche and slicker than a Corvette and still cost less than $4,000 when introduced in 1971. Subsequent Z's increased in price and speed, but lacked the compact beauty of the original."
The Z actually debuted in 1969. It's was first a 1969 Nissan S30, marketed as a Nissan Fairlady Z 240 in some markets and others as the Datsun 240Z, and was designed by a team led by Yoshihiko Matsuo, the head of Nissan's Sports Car Styling Studio, and they started designing it in 1965. There was no specific direction for the car – just to develop a small roadster based around the existing 2 liter U20 engine (used in Datsun 2000 roadsters). There were two main designs the team worked on, and although management encouraged the other, more conservative design, Matsuo kept coming back to their sleek, sporty version of the Z. The plan changed in response to American MVSS safety regulations, too (as well as other difficulties with soft tops), prompting the team to work on a fastback/hatchback over a convertible Z that was part of the original design.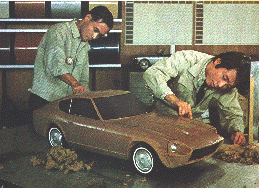 As far as power goes in those early models, the American 240Z had a 2.4 liter L24 inline-6 cylinder with twin Hitachi SU-type carbs, and was capable of 151 horsepower, while the Japanese version has the 2 liter and 130 horsepower.
They priced it low, around the same price as the somewhat-dated European MG, entering a market where European cars had American admiration, but Japanese cars didn't. With the low price tag, the new look of the sleek, modern, well-performing sports car got a real reception in the States from both buyers and the auto press, and dealers soon had to deal with wait lists for the car. Beyond the car itself, the Datsun 240-Z had an impact in that it positively affected the world's idea of Japanese cars. This fed back to Datsun, too, because with a broader acceptance, more cars of similar types sold, and that meant more dealers, manufacturers and parts, improving ease of buying a Z as well as of maintaining it over time.