Solar panels, propane tank, bike rack, cook area, sleeping area, and all in a compact, rugged little travel trailer teardrop unit. This one is by Inka Outdoor, and it's called the Venture OHV Off-Road… Rough Ridge Edition.
"Rough Ridge Edition is a fresh take on the overland adventure camper. A rugged yet fairly lightweight approach (considering that many expedition rigs are based on 20,000lb or heavier chassis) the Venture OHV™ brings serious long-haul offroad capability to lighter vehicle packages such as the Jeep Wrangler or Toyota Landcruiser. No longer limited to small-box "Jeep" style trailers or the ever-popular "once setup you can't go anywhere" rooftop vehicle tent, adventurers and travelers now have the option of bringing some serious civilization along. Base-camping while still being able to use your vehicle is now practical.
Equipped with all the standard comfort and livability features of our Brevard Hustler™ street model camper and riding on a time-proven off road suspension design, we believe that the Venture OHV™ has what it takes.
"Riding on 32 inch B. F. Goodrich All-Terrain T/A's mounted on steel crawler rims (standard) the designed-for-purpose chassis is specifically fixture-built. The twin trailing A-arms are mirrors of each other and capable of more than 2X the rated worse-case impact suspension loads. Derated Firestone Ride-Rite™ air-springs support the body and provide a smooth, durable ride with onboard compressor and wireless adjustable remote. Rancho 9000™ adjustable shocks the bumps. 10″ electric drum brakes (with optional parking brake) provide the stopping power and electric-over-hydraulic disc brakes are available. Oversized polyurethane bushings support the suspension components and grade-8 fasteners are used. 11 gage rectangular tube and 3/16″ laser cut steel components make up the frame rails and brackets. All of this is protected in critical areas by 14 gage steel skid plates and removable (repairable) tubular rock-rails protect the body edges. Jeep-style 11 gage aluminum diamond-plate fenders are standard and diamond plate protects the composite camper body in critical areas."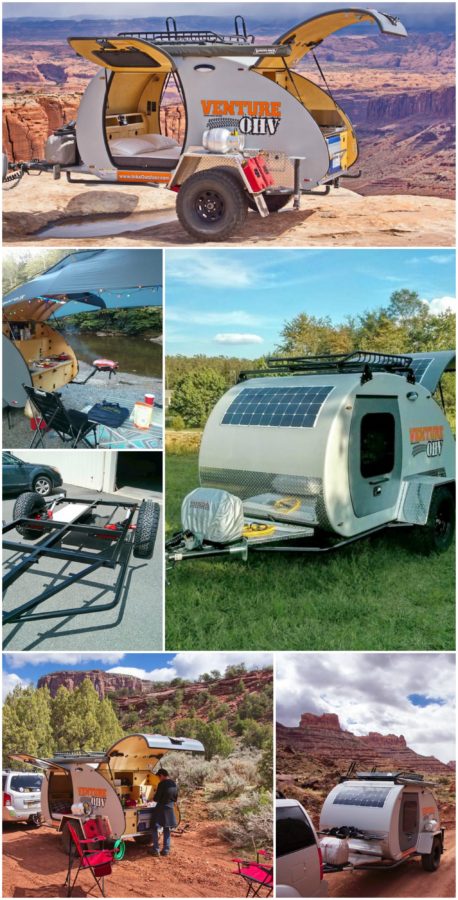 If you need other items for camping, Inka can do that too. Here's a basic list of their offerings: Racks (cargo basket, bike, boat, cooler, Jerry-can, game, extra propane, etc) — Multiple batteries, charging systems, voltages, etc. — Solar systems- various configurations — Hot water- electric, Diesel or LP gas. Built in or off-board — Outside shower with privacy curtain — Heat and air conditioning – from basic electric to LP gas/diesel heating systems — Upgraded water tankage – 9gal fresh/9gal grey or 18 gal fresh standard , 38 gallon fresh is option — Entertainment/communications options from simple radio/HDTV to Iridium or Globalstar sat-coms — Complete off-grid inverter systems with automatic changeover/generator ops — Generator and locking system — Tool boxes — Refrigeration — Built-in fly-rod storage — Air compressor systems with accessories — Rear winch — Rooftop tents (various manufacturers) — Side tents (custom) — Screened enclosure (custom) — Spare tire/wheel racks/carriers — Electric over hydraulic disc brakes (Australia compatible) — Parking brake— Remote door locks.
For more of Inka Trailers, find them in our RV directory.