Any luxury RV motorhome owner is already aware of Prevost, and now they have a new version of their classic diesel pusher. They have redesigned the X3-45 motorcoach, so what's changed?
Their main focus for the new X3-45 motorhome was a more aerodynamic body and other refinements that will now give the RV better fuel economy than X3s of the past. Of course, big RV makers like Prevost are always trying to improve what they have (Prevost, for example, has been improving for 95 years now!)
"Our customers are as excited as we are with the changes and improvements we have made to this iconic model that will positively impact their bottom line", said Prevost Vice President/General Manager, Francois Tremblay. "The re-styled X3-45 has already achieved a remarkable decrease in highway fuel consumption of up to 10% which was accomplished through body modifications including the front windshield and side windows."
First what hasn't changed on the new diesel pusher: The X3-45 is still the lowest standing full-size motor coach on the market (despite being the tallest made by Prevost) at 334.5 inches. It makes it easier to park in vehicle bays and access other clearance areas. This also gives it a smoother ride than taller vehicles.
What has changed: The shape is the main change. The entire front fascia is more aerodynamic, as you can see in the photos.
"This curvature improves aerodynamics that boost fuel economy," says Chief Project Manager, Camille Michel. "The swirling airflow behind the coach now actually helps propel the coach forward as opposed to creating drag."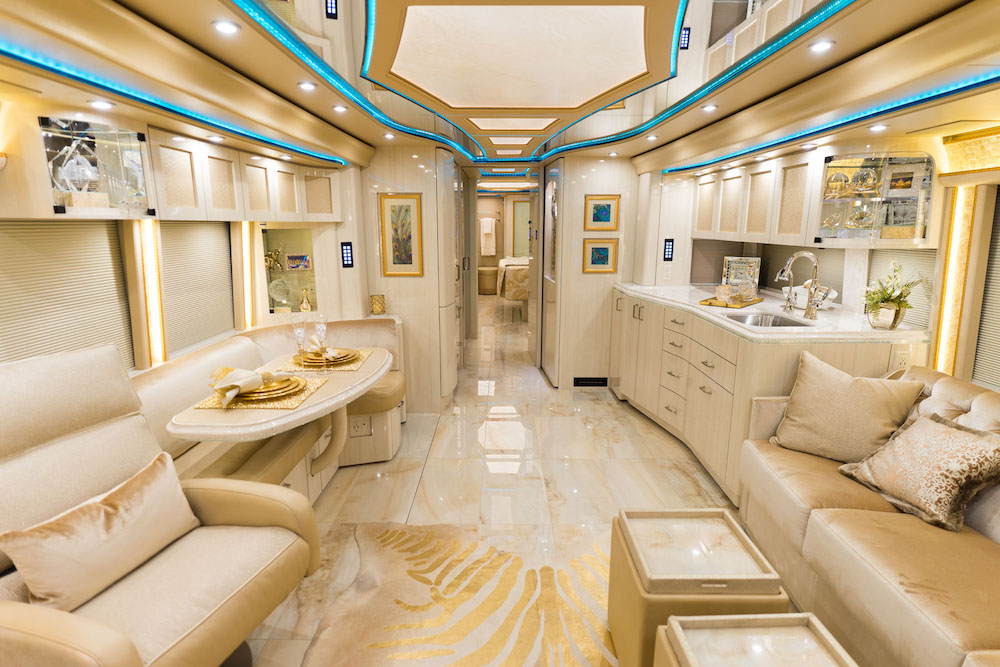 They wanted more affordable travel! "Above all else, operators told us they would appreciate whatever we could do to ease their fuel costs," Michel says. "We know how difficult it is to trim costs and create profit from their operations, and much of what we have done with this new coach addresses this issue."
They also redesigned the windows, and the new model has 15% more visibility and a more spacious feel. It also has a one-piece ceiling now. The cockpit also has less blind spots and is more expansive. The front windshield now has a gutter to catch dirty water (and keep it from blowing backwards onto side windows). And it has a new scissor-operated sunshade to cover the windshield.