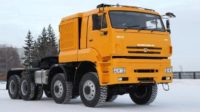 You might have heard more about these trucks if you lived in Russia. Or even Africa. Or Vietnam.
Americans who are aware of the famous Peterbilt trucks will see something familiar with them though: long, distinctive bonnets
KAMAZ trucks are Russian made. And they are driven not just by civilians but also by the military.
But if you think that makes them blob-like non entities, or tank-like. Or capable only of brute strength (similar to what many Americans think about Russia-made products), please reconsider.
A site called Red Bull in reviewing a 2016 model found:
"The new Kamaz Master truck is quite literally not just a pretty face. The elongated snout hides a plethora of new technology."
Recent news accounts said that the Russian KAMAZ-Master truck was equipped with sensors capable of detecting road signs. But also other vehicles. And even people.
The auto-pilot version is a joint project between the company's Cognitive Technologies and Russia's National University of Science and Technology.
Russian trucks go well beyond its borders.
Other news reports said that negotiations were underway recently to make Morocco the main platform of KAMAZ exports to Africa.
According to the Russian minister, negotiations are underway for the installation of Russian facilities which will make Morocco their platform for exports to Africa.
Too hot for cold-accustomed Russian trucks?
Hardly.
An African deputy minister pointed out the Russian trucks performed very well in hot weather, showing "very good performance in our climatic conditions."
A news report found that Russia was already supplying trucks to ten African nations.
In Vietnam, meanwhile, the truck manufacturer was looking at the possibility of getting preferential tax treatment.
In fact, a lot about the Russian company may be a surprise to many.
Russian failings such as supplying mass consumer goods and vehicles such as their cars are well-known.
Russian-made Ladas are commonly found in long-time Russian ally, Cuba. The joke there, where Cubans have long been famous for their classic American cars, is that people who drive Ladas' "don't have a car, you have a Lada."
Russia may not be the world's leading manufacturer of cars, "But it is certainly very good at making trucks," writes the site "Russia Beyond the Headlines."
What is this Kamaz company?
Read on in Part II (click here).
491 total views, 491 today