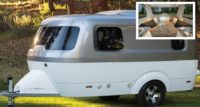 Want to tow a light RV behind your SUV or other small vehicle?
RV trailers offer space to people who want to hook up something to their truck and go out for the weekend, or longer trips, but what about if you have a smaller vehicle, an midsize SUV or maybe even a car?
"We've been imagining a small, well-thought-out fiberglass travel trailer for quite some time and are very confident about its potential," according to Airstream President Bob Wheeler. "Nest is a product that conveys sophistication, simplicity, and upscale modernity, so it made sense for us to partner and help bring this design to market."
It's a highly compact 16.5-foot fiberglass travel trailer created by designer and fiberglass expert Robert Johans is a perfect fit within the Airstream line — legendary durability, fine attention to detail, timeless design, and innovative features.
This small RV travel trailer has LED lighting, stainless steel appliances and a queen-size bed, as well as brightly lit interior spaces.
These RV trailers will be coming Summer 2017, and is being touted by the company as the highly compact fiberglass travel trailer and a perfect fit within the Airstream line, "continuing our reputation for legendary durability, fine attention to detail, timeless design, and innovative features."

4365 total views, 198 today